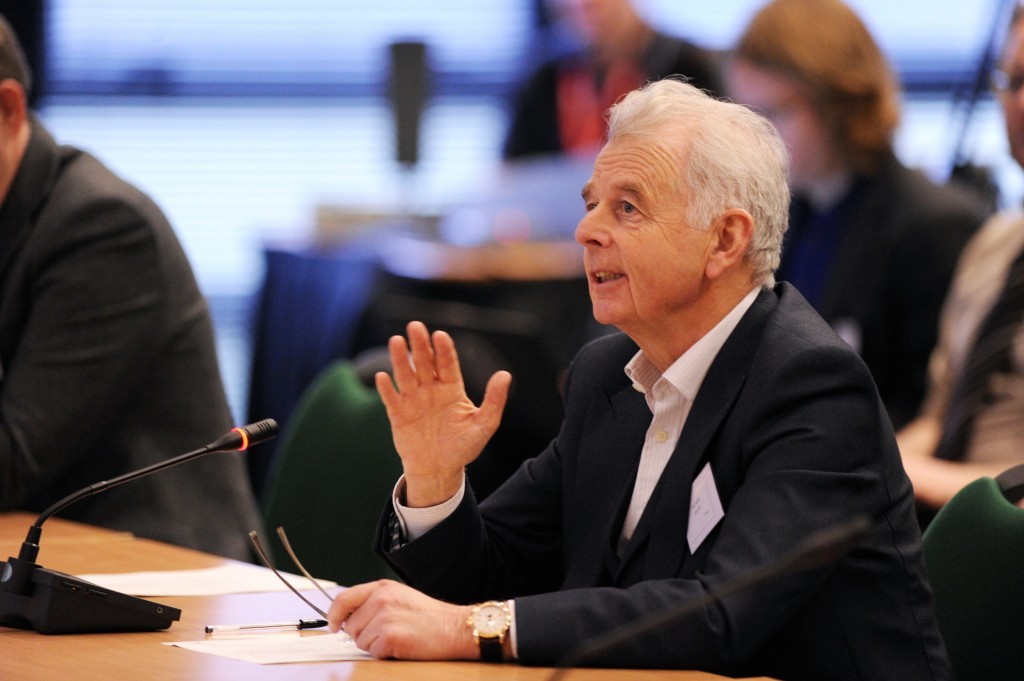 BNP Paribas SA and its partners in a Scottish energy loan are staring at a loss of 122 million pounds ($172 million) after entrepreneur Ian Suttie's venture went bankrupt, illustrating the wreckage banks are likely to face from the oil bust.
First Oil Plc, an Aberdeen-based operator in the North Sea, entered U.K. bankruptcy protection in February. While the lenders are jointly owed about 149 million pounds, they may only receive about 27 million pounds in proceeds from asset sales, according to Bloomberg calculations based on bankruptcy filings. The banks, which include Barclays Plc and ING Groep NV, agreed to accept the writedown on April 4, a filing shows. Bank of Nova Scotia has "exited its position" in the debt, spokeswoman Diane Flanagan said.
The episode shows how quickly millions of dollars in bank debt can evaporate when energy prices collapse. The lenders more than doubled their loans to First Oil to 150 million pounds in the year through April 2014, just weeks before the price of oil started sliding, according to the accounts. The company spent 83 million pounds acquiring other firms during the period, and repaid a loan of 11 million pounds to Suttie.
"The underlying reason for First Oil's demise was the collapse in the oil price," Jim Tucker, a partner at KPMG LLP who's helping oversee the bankruptcy, said in a phone interview. "I'd expect further discussions between companies and their lenders as they find a solution to their current financing issues."
West Texas Intermediate crude oil for May delivery fell 2.3 percent to below $37 per barrel at 12:18 p.m in New York. The commodity has tumbled about 60 percent since mid-2014 amid a glut of supply.
European lenders have a gross exposure of 270 billion euros to the sector, and companies with junk credit ratings face increasing risks of default if prices fail to rebound, Moody's Investors Service wrote in an April 4 report. BNP, France's biggest bank, has the biggest single exposure to energy of any lender in Europe, according to the Moody's analysts, led by Alessandro Roccati.
BNP, based in Paris, was First Oil's lead lender, according to annual accounts filed with the U.K.'s Companies House that were signed off in January 2015. Besides Barclays and ING, the other secured creditors were Bank of Nova Scotia, Oaktree Capital Group LLC, Commonwealth Bank of Australia and NIBC Bank NV, a Dutch merchant bank backed by J.C. Flowers & Co., the bankruptcy filings show.
The documents didn't break down each of the lenders' shares of the loan. Flanagan, the spokeswoman for Scotiabank, didn't comment on how the Toronto-based lender exited its share of the debt. Jonathan Doorley, an external spokesman for Oaktree, wouldn't comment on when the Los Angeles-based distressed debt investor got involved in the process. Spokesmen for BNP and the other banks declined to comment.
Tucker and the other KPMG administrators are dismantling some of Suttie's dealmaking. They've agreed to sell First Oil's interests in a number of assets since their appointment, including a stake in the Kraken oil field to partners Cairn Energy Plc and Enquest Plc, and two subsidiaries to Zennor Petroleum Ltd.
In 2015, as the price of oil tumbled, Suttie loaned 12.4 million pounds to First Oil, according to documents from the bankruptcy. This is a secured debt that ranks alongside the banks' debts of about 149 million pounds, meaning that Suttie is entitled to a share of the 30 million pounds in proceeds that officials expect to gain from asset sales. He didn't respond to requests for comment made through First Oil.
Suttie, 68, is a chartered accountant based in Aberdeen, the city on the northeast coast of Scotland that serves as the hub of the U.K.'s oil and gas industry. He made his fortune when he sold oilfield services company Orwell Group Plc to Weatherford International Plc for $250 million in 2001. His net worth was 350 million pounds last year, down from 450 million pounds a year earlier, according to the Sunday Times.
Recommended for you

Shell, Banks say Nigeria's Aiteo owes $1.7 billion in oil loans