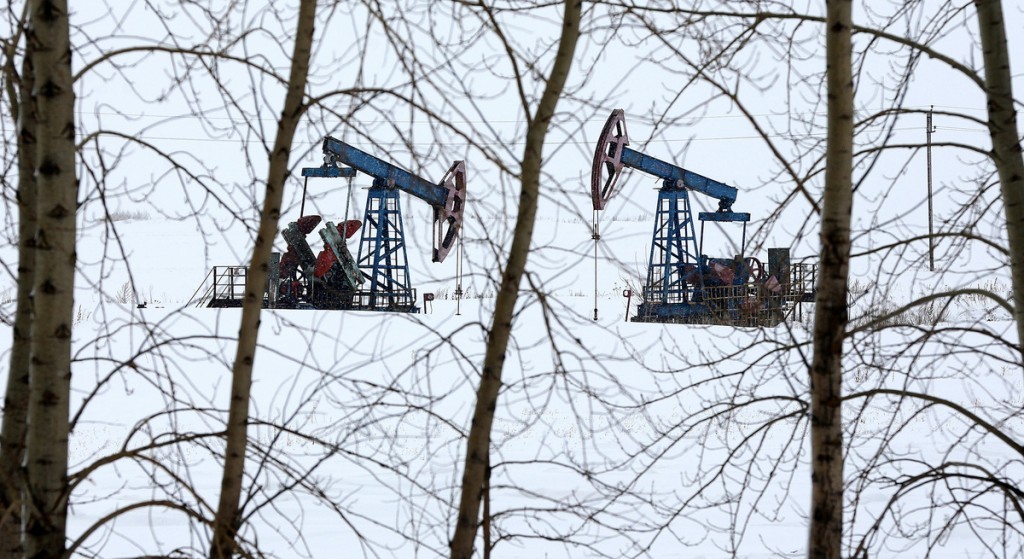 Oil market watchers see a 50-50 chance that Russia, Saudi Arabia and other major producers will agree to freeze output in Doha on April 17, but either way they don't anticipate any impact on crude supply because most of the countries are already pumping flat out.
While forty analysts and traders surveyed by Bloomberg News were evenly split over whether talks in the Qatari capital will succeed in capping production, a majority of those who predicted a deal said it would have no impact on actual flows of oil. Most producers attending the meeting aren't able to increase production even if they want to, according to Rystad Energy AS and BNP Paribas SA.
"There is some symbolic value in that they're actually able to meet and discuss a real strategy for the oil market" after two years of disagreements, said Jens Pedersen, a senior analyst at Danske Bank A/S. "But short term, I don't expect it to have any significant impact on fundamentals."
Crude prices have recovered from 12-year lows earlier this year amid speculation producers would make the first significant attempt at coordinating oil output between the Organization of Petroleum Exporting Countries and producers outside the group in 15 years. It's a change of strategy after OPEC decided in November 2014 to fight for market share rather than defend prices by cutting production. Several countries planning to boost production this year, notably Iran and Brazil, have said they won't join the freeze.
Iranian Obstacle
Brent crude, the global benchmark, has lost about 60 percent in the past two years. Prices on Thursday slipped 1.2 percent to $43.64 a barrel as of 6:59 a.m. in London.
All OPEC members will go to Doha except for Libya, while Iran's presence remains unclear. Non-OPEC producers Russia, Azerbaijan, Colombia and Oman will also take part. If Iran were to attend, the countries gathering would account for about 55 percent of the world's crude output, according to BNP Paribas.
There is still one potential hurdle to an agreement. Saudi Arabia, the de-facto OPEC leader, said it would only sign up if regional rival Iran also participated. Iran's Oil Minister Bijan Namdar Zanganeh has dismissed as "ridiculous" the notion that it would freeze output just as exports recover after the lifting of nuclear sanctions in January.
'Meaningless' Deal
There is hope of a deal regardless of Iran's stance, Dmitry Peskov, the Kremlin's press secretary, said Tuesday following a phone conversation between Russian Energy Minister Alexander Novak and his Saudi counterpart Ali al-Naimi. He declined to provide further details of the call.
If a deal is struck it would probably be "meaningless," said Gareth Lewis-Davies, an analyst at BNP Paribas. For many of the countries involved production in January — the level proposed for the freeze — was already "particularly high" and there was no expectation it could be maintained, he said.
Output in Russia, which vies with Saudi Arabia for the title of world's largest crude producer, was 10.912 million barrels a day last month, narrowly beating the previous high set in January, according to the Energy Ministry's CDU-TEK unit. Production there will probably taper off this year, according to the French bank and Oslo-based Rystad Energy.
Last month, the 11 OPEC members confirmed to attend the talks in Doha — excluding Iran and Libya — were already pumping 487,000 barrels a day less than they did in January, according to group's monthly oil market report published Wednesday.
The biggest gains in output this year will come from Iran and Brazil, according to International Energy Agency estimates, which have said they won't join the freeze.
The Doha meeting will most likely "be able to stitch something together," said David Fyfe, the head of research at oil trader Gunvor Group Ltd. "The Saudis are not renowned for attending meetings that they think will be an outright failure," especially when such an outcome could put strong downward pressure on prices, Fyfe said.
Their record levels of production should make it easier for the countries to agree a freeze, said Bassam Fattouh, director of the Oxford Institute for Energy Studies.
While the summit's impact on the balance of supply and demand will be limited, "it sends a signal to the market that producers are cooperating and that there could be a first step to a greater agreement later in the year," he said.
Recommended for you

Oil holds above $100 as traders weigh tight market, OPEC+ limits