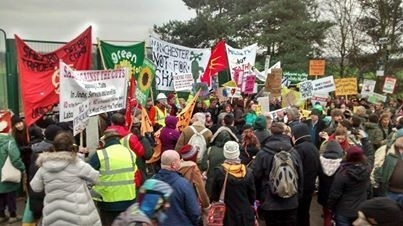 A large demonstration is expected to greet councillors gathering in North Yorkshire today to consider whether to give a green light to a controversial fracking operation.
The UK firm Third Energy has applied for permission to frack for shale gas at its existing drilling site near the village of Kirby Misperton, between Malton and Pickering.
The move has provoked angry protests from environmental campaigners opposed to the controversial hydraulic fracturing technique as well as groups concerned about more local environmental impact issues.
Hundreds of people, including fashion designer Dame Vivienne Westwood, are expected to gather outside the meeting in Northallerton to support those opposing the plan.
Last week, officers at North Yorkshire County Council recommended the granting of permission for Third Energy's application.
Planners came to this decision despite acknowledging that many of the 4,000 representations it had received in consultation were objections to the plans.
The officers' report published last week said: "Members will be very aware that this is a controversial proposal of major sensitivity and complexity. This is indeed demonstrated by the receipt of over 4,000 representations from much further afield than just the local community in which the application sits."
It said objections had been raised on the grounds of "climate change, surface and groundwater resources, protected species, landscape, air quality, noise, dark skies, heritage, seismicity/ground vibration and highway impacts as well as lacking compliance and conflicting with development plan policies".
The report said: "In this particular case it has been concluded that the degree of conflict with policies in the development plan is not sufficient to justify refusal of the application.
"It should also be noted that there is national policy support for the development of a shale gas industry in this country and this is an important material consideration."
The Government has said it is going "all out for shale" to boost energy security and the economy.
But opponents fear fracking – in which liquid is pumped deep underground at high pressure to fracture rock and release gas – can cause problems including water contamination, earthquakes and noise and traffic pollution.
Environmentalists also warn that pursuing new sources of gas – a fossil fuel – is not compatible with efforts to tackle climate change, and that the focus should be on developing cleaner sources of energy such as renewables.
No fracking has taken place in the UK since 2011, when tests on the Fylde coast were found to have been the probable cause of minor earthquakes in the area.
Since then, two high profiles applications to frack in Lancashire have been rejected by councillors and are now the subject of appeals.
Third Energy wants to frack for shale gas using an existing two-mile deep well – called KM8 – drilled in 2013. The firm wants to erect a 120ft high drilling rig over the well.
It said it has taken "every possible step" to ensure the plan will not impact on the environment.
Friday's planning committee meeting at County Hall, in Northallerton, is likely to continue on Monday due to the number of people who have applied to speak.