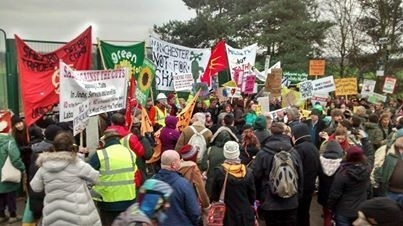 The Scottish Government will consider public opinion as well as science when it comes to deciding whether to allow fracking, energy minister Paul Wheelhouse has pledged.
Mr Wheelhouse insisted the Scottish Parliament's desire for an all-out ban on fracking is "non-binding" and it will continue with its moratorium pending the results of scientific research and consultation.
Mr Wheelhouse visited upstream oil firm Nexen in Aberdeen to discuss ways to support the flagging North Sea oil industry.
The visit comes after the Tories questioned how fracking opponents "can look the unemployed oil and gas workers in the eye while refusing them new jobs".
Labour hijacked an environment debate on Tuesday to force an early vote on the divisive gas extraction technology, securing a vote in favour of a ban with the support of the Greens and Liberal Democrats after the SNP abstained.
Mr Wheelhouse said: "The government's position is we are sceptical about unconventional oil and gas but we are taking an evidence-based approach to the industry.
"We have commissioned a pipeline of research which is going to be reporting back to the government over the summer.
"We will look carefully at the scientific evidence and we have said we will take great account of the science and also public opinion in forming a view over time.
"That's why we didn't, as other parties have done, back a ban in the parliament the other day.
"It's a non-binding vote in the parliament and we have maintained that we are going to continue to pursue our approach as we set out in our manifesto, which is to look at the science, listen
to public opinion through a consultation and then form our view about the future of unconventional oil and gas in the UK and Scotland.
"We will be consulting the stakeholders and the public about that evidence, and obviously take the views of those that haven't had a chance to participate in that exercise to see if they an alternative view."
The Scottish Government has previously disregarded scientific evidence on other issues, notably GM crops amid concerns from the food-and-drink industry that it may damage Scotland's "clean and green" image.
Mr Wheelhouse said: "I do recognise the debates about other issues, on GM crops and other areas, but again we have to balance the evidence and come to a view.
"In the case of GM, there was considerable concern in the food-and-drink industry about the impact there would be on the provenance of Scottish food and drink, which is renowned for the quality of its provenance, and the environmental quality of what we produce is key to the success of the food-and-drink sector."
Recommended for you

Grant Shapps: A look at the new business and energy secretary's policy record