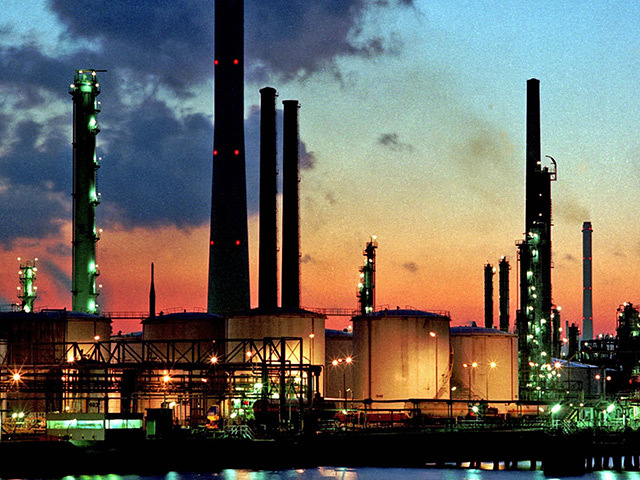 Oil majors Chevron and Shell are putting small refineries on the auction block as they look to trim lower-margin assets in the face of headwinds from rising crude oil prices.
Chevron, the second largest US oil company, is soliciting interest in its Burnaby, British Columbia, refinery and gasoline stations, the company told Reuters news agency. Shell is looking for buyers for its Martinez, California, refinery, two people familiar with the situation told Reuters. Shell declined to comment.
These two companies, along with Exxon and BP have sold more than a million barrels per day of US refining capacity in the past three years, according to Stratas Advisors, a Houston-based consultancy.
The world's five largest oil majors together still have enough US capacity to refine about 4.7 million barrels per day.
Refining profit margins have declined from highs seen in 2015, and the fear is that as crude prices recover from a two-year rout, refiners will be squeezed as the cost of oil rises but the price of gasoline does not keep pace.
Selling the plants while margins are still reasonably high allows the majors to exit without a hit to their balance sheets.
Chevron has retained Rothschild & Co to market its 75 percent stake in a South Africa refinery. The fifth oil major, Paris-based Total, retained Lazard to sell a 50 percent stake in its sole US refinery, but was unable to secure the price it desired, according to sources.
Refining has remained a profitable sector during a two-year oil price rout, so these plants can fetch a relatively higher price than exploration and production assets. Chevron and Shell have the highest cash-flow deficits, said Lysle Brinker, director of equity research at IHS Energy, and so have the most motivation to sell.
The two companies have been investing in other areas of their business – Shell plunked down $53 billion to buy BG Group earlier this year, while Chevron has spent heavily on large-scale liquefied natural gas projects.
"They're much more strapped for cash, and they're accelerating the sale of assets that will get pretty decent prices," said Brinker. "A lot of the asset sales that the big guys have been selling are downstream and midstream, because those have been sought-after by private equity and others because there's more steady cash flow."
These assets may prove to be a better fit for smaller buyers that focus on particular regions, such as the North American West Coast, or companies that concentrate on global storage and trading, but not oil production.
Recommended for you

Norway's wealth fund cuts big oil holdings in profit taking move