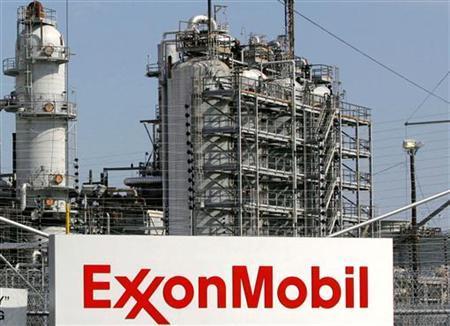 Exxon Mobil Corp. is the leader in the clubhouse to buy Papua New Guinea-focused gas explorer InterOil Corp. after Oil Search Ltd. declined to submit a counteroffer.
Oil Search and Total SA had offered to buy InterOil in May in a deal that valued the company at $2.2 billion. The two companies agreed to terminate their joint effort if InterOil cancels their agreement and instead opts to enter a deal with Exxon, which made a $2.5 billion counteroffer on July 18, Oil Search said in a statement Thursday.
An Exxon deal is welcome to Oil Search because it would drive integration between Papua New Guinea's two liquefied natural gas projects, lowering costs and making them more competitive in an over-supplied market, Oil Search Managing Director Peter Botten said in an interview with Bloomberg TV. Exxon already operates the existing PNG LNG plant, and buying InterOil would give it a portion of the proposed Papua LNG terminal. Oil Search has stakes in both.
"We work very well with Exxon Mobil as we do with Total," Botten said in an interview in Bloomberg's Sydney office. "The cooperation between the two projects does have the capacity to drive down the capital costs, optimize the timing, the use of resources and contributions of various fields into the next phase of growth."
Botten said Total also welcomed Exxon's purchase of InterOil. Total on Wednesday said that its initial offer with Oil Search represented fair value for InterOil assets and that it was analyzing the Exxon proposal. Company spokespersons didn't immediately respond on Thursday to an e-mail asking for comment about Oil Search's statements.
InterOil said it was preparing a statement in response to Oil Search. Exxon spokespersons didn't immediately respond to an e-mail requesting comment.
All four companies are involved in the Papua New Guinea gas industry. Exxon and Oil Search run the country's only liquefied natural gas terminal, PNG LNG. Oil Search, Total and InterOil are partners in the Elk-Antelope gas field and a second proposed terminal, Papua LNG. Exxon buying InterOil means that two and possibly three new liquefaction trains will be built in Papua New Guinea, according to Botten.
Oil Search shares in Sydney rose as much as 3.1 percent to A$7.56 and were trading at A$7.45 at 1:51 p.m. local time.
"We see Oil Search as the winner of this arrangement as they get the alignment without dilution," Neil Beveridge, a Hong Kong-based analyst with Sanford C. Bernstein & Co. said in a research report. With Exxon's entry, the probability that two additional LNG trains or more will be sanctioned has "increased significantly."
InterOil said Exxon had offered it a fixed price of $45 per share, which values the company at $2.5 billion, including $188 million in net debt. Exxon also included a so-called contingent-value right, offering $7.07 per share for each trillion cubic feet of likely gas reserves above 6.2 trillion found in InterOil's Elk-Antelope fields, capped at 10 trillion cubic feet.
While gas-export projects globally are being delayed or scrapped amid a downturn in the energy industry, Papua New Guinea is seen as one of the most promising locations due to lower development costs and gas reserves that also include condensates, a type of light oil that adds extra revenue.
Elk-Antelope fields are 340 kilometers (211 miles) away from the proposed site of the LNG plant near the capital, Port Moresby, less than half the distance for the resources feeding the PNG LNG project, according to an InterOil presentation in January.
Integrating Projects
If construction of a separate Papua LNG project starts in 2018, it would take until 2022 before first shipments leave the terminal, according to BMI Research. Papua New Guinea exported 8.76 billion cubic meters of LNG last year, a level that should increase to more than 20 billion by 2024, BMI said in a report Wednesday.
If the companies integrate PNG LNG and Papua LNG, they could save $2 billion to $3 billion in capital costs by sharing assets and power generation, Oil Search said in a June presentation.
Lower development costs will allow the companies to offer more flexibility to potential LNG buyers, who are looking for shorter contracts in an over-supplied market, according to Botten. LNG supply and demand probably won't come into balance until the early 2020s, he said.
"We think, especially with cooperation between the two projects in PNG, that we're very well suited to being the lowest-cost producer feeding into that market," said Botten.
Recommended for you

PNG scrutinises Santos-Oil Search merger