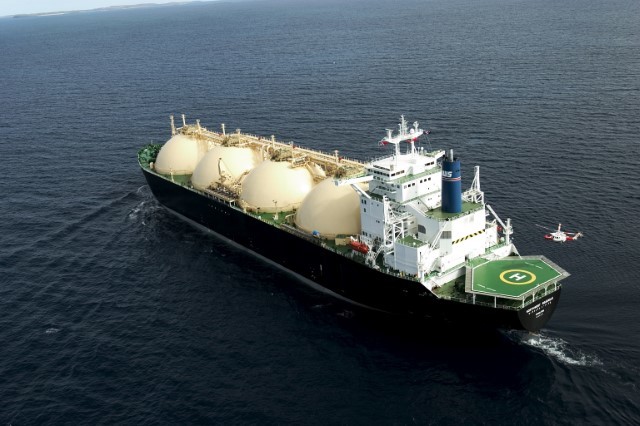 LNG's surge is running out of gas.
Liquefied natural gas in Asia, which was in such over-supply that prices in Japan fell to a decade-low in April, has risen by almost half in the past three months as production outages stifled supply, demand rose in places like China and India and a cold snap in Europe increased the need for heating fuel.
The resurgence likely won't continue, according to analysts surveyed by Bloomberg. Chevron Corp. restarted LNG production at its Gorgon plant in Australia July 22 after halting it twice this year because of malfunctions. New projects coming online in the second half of the year are expected to add supply and once again overwhelm global demand.
"This is likely just a short-term uptick in spot prices," said Gautam Sudhakar, IHS Markit Ltd.'s Washington D.C.-based director of global LNG. "In addition to the resolution of these temporary supply outages, there is a lot more capacity coming into the market and ramping up in 2017. Supply growing faster than demand should prevent a strong uptick in prices."
Spot LNG in Singapore rose to $5.654 per million British thermal units July 25, according to a Singapore Exchange Ltd. assessment. That's up 45 percent from April 18, when it dropped to $3.899, the lowest since the exchange began gathering prices in September 2014. Oil has risen about 4.2 percent in the same period.
Spot LNG's discount to supplies purchased under long-term contracts priced off oil has narrowed to 44 cents per million British thermal units, from $2.43 in June, according to Bloomberg calculations using a price formula of a 12.5 percent link to Brent crude plus 50 cents.
Demand has been stronger than expected in many Asian countries. China imported 11.5 million tons of LNG over the first six months of 2016, up 21 percent from the same period last year. India imported about 9.5 million tons over the first half of the year, up 45 percent, according to Kittithat Promthaveepong, a Singapore-based LNG analyst for the energy consulting firm FGE.
"Indian demand has been exceptionally strong in 2016," Kittithat said by e-mail. "This likely gave some support to Asian spot prices over the recent months."
Asian buyers are now also competing with Europe for spot cargoes. U.K. gas futures priced in U.S. dollars have risen about 30 percent since April 7, as a late-May cold snap increased heating demand and Centrica Plc shut its Rough storage unit.
The rally in spot prices has been aided by supply disruptions. Chevron's Angola LNG plant shut for maintenance and isn't expected to restart until late September. The company suspended output at its Gorgon project twice this year after it began operation in April.
In addition to those plants resuming output, new supply should come online later this year from a second production train at the Australia Pacific LNG project on Curtis Island, a second train at Gorgon and a second train at Sabine Pass. Cheniere Energy Inc. will shut the first production train at its Sabine Pass terminal in Louisiana in September for planned maintenance.
"Spot LNG is largely disconnected from oil and, as such, when you get some more trains on and more volumes hitting the water, spot should soften a bit," Trevor Sikorski, an analyst for Energy Aspects Ltd. in London, said by e-mail.
Recommended for you
X

Investigation after helicopter's rotor blades hit truck at Stavanger Airport