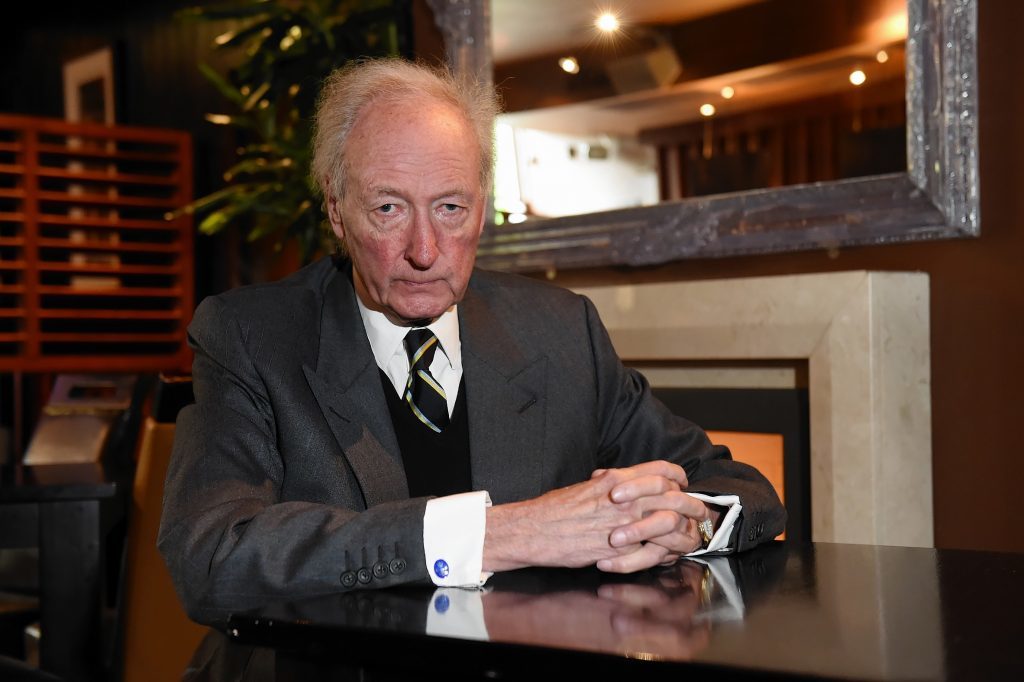 My office
I am always at my office at 7:45am. This is not difficult as my office in Westminster is a five minute walk through Westminster School from my house. Some times I take the long way round but it is quite soothing to walk through the Dean's Yard past the Abbey, founded in 960, on my way to Cluff Natural Resources, founded in 2012.
I have an office which overlooks Dean's Yard in a building designed by Giles Gilbert Scott in 1862. My office is lined with books of corporate history of the mining, shipping and oil industries, which I collect.
They can be extraordinarily interesting, if well written. I am presently reading Yarrows: The First Hundred Years, an account of the beginnings of the distinguished Glasgow shipbuilding firm.
I have recently corresponded with its last chairman, my old friend Sir Eric Yarrow, who is still flourishing, at least at the bridge table, at the age of 96.
Most of the photographs on the wall are of my family. There is an oil painting of Field Marshal Smuts over the fireplace. He was an outstanding figure, in my judgement, who remarkably served in the War Cabinet in both the First and Second World Wars.
I also have an early photograph of Cecil Rhodes, another truly outstanding man, whatever the revisionists say. Many distinguished Africans have visited my office over the years and not one has commented adversely.
I also have an engraving of the famous painting by William Salter of The Waterloo Banquet at Apsley House in 1815. I had the honour of attending the bicentenary dinner in 2015 in the same room, which remains exactly as it was in 1815, and I have a photograph of all the 2015 guests below it.
Technical meetings? No, thank you. I'm allergic.
I sit at a partners' desk on which my long legs rest for most of the day. I am given to reflect and research. I have a particular love of reference books and find the prospect of them all going digital profoundly depressing. Since our business is confined to the North Sea, there is no travelling involved,except to the cities of London, Edinburgh and Aberdeen, whereas previously, when my business was concerned primarily with African mining, I was scarcely in London.
I get any personal work done by 8:30am and prefer to hold any important meetings in the mornings. These are held in the board room, which is also lined with rare books relating to trade, and take many forms from youngsters rashly seeking my advice, to meetings with shareholders and advisers. I am allergic to technical meetings, which are held by Andrew Nunn, our operations director, while the governance and reporting issues are handled by Graham Swindells, our finance director.
Dining in style
My lunch routine is varied only by which of four clubs I eat at – White's, Brooks's, The Travellers or the RAC. I never eat anywhere else except as a guest. I walk across St James's Park, up the Duke of York steps and along Pall Mall. This I have done for 50 years and is a constant pleasure, although the explosion in the number of tourists, cyclists
and self important joggers has rendered it rather more hazardous than it used to be. I am a frugal eater and confine alcohol to the evenings.
The afternoon takes much the same form as the morning. I leave after 6pm, never in any circumstances will I attend a cocktail party, but I do go to occasional functions and my dining locations are attended by rather more imagination than at lunch. Dinner parties I detest as by 10:30pm I tend to be in bed, although my wife and I often have one or two friends to dine at home.
Mini Q&A:
Q: If you could give your younger self one piece of advice about business, what would it be?
A: Avoid it, learn to play the violin instead.
Q: What's the best piece of advice you've ever been given?
A: Take the opportunity of a lifetime in the lifetime of the opportunity ( My Father )
Q: Do you have any regrets in business?
A: Not rejecting the Ashanti Goldfields bid for Cluff Resources in 1996.
Algy Cluff, who was involved in the discovery of the Buchan field 40 years ago, is chairman and chief executive of Cluff Natural Resources, an oil and gas investment firm.
Recommended for you

Chris Cox and Curium Resources going after North Sea's untapped discoveries