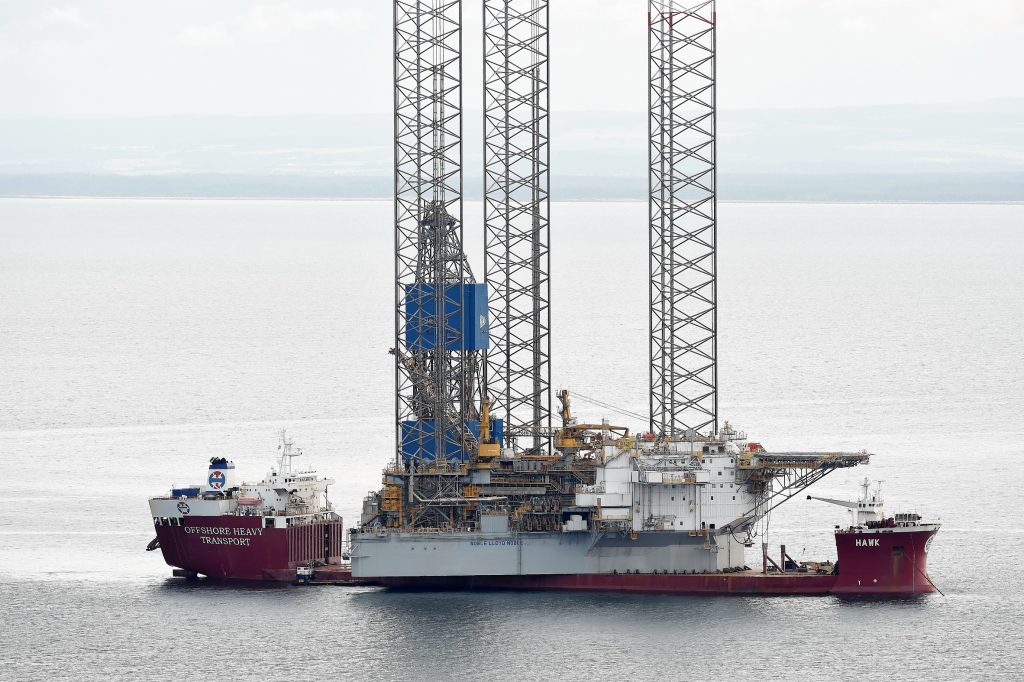 Dominating the skyline on the Moray Firth, the world's biggest jack up oil rig could been clearly seen several hundred yards offshore.
A self-elevating unit, a jack up rig is a mobile platform with a buoyant hull and movable legs, capable of raising its hull over the surface of the sea.
The rig, Noble Lloyd Noble, was sitting to the east of Cromarty yesterday on the carrier ship Hawk.
Weather depending, the massive structure was expected to be brought into Nigg this morning.
The rig, which weighs 37,000 tons and is 705ft tall, has been brought from Singapore to carry out work in the North Sea.
Rory Gunn, general manager of Nigg Energy Park said: "We welcome the arrival of the Noble Lloyd Noble Jack Up Drilling Rig to Nigg where it will undertake final contract preparations prior to going to work in the North Sea."
The structure is capable of operating in a water depth of up to 492ft in harsh conditions.
It boasts a maximum total drilling depth capacity of approximately 33,000ft.
Noble Lloyd Noble will be deployed in Statoil's Mariner field development in the North Sea under a four-year charter arrangement.
The Hawk will now go to Broadbay in Stornoway to collect the Transocean rig which grounded in the Western Isles.
Kenneth MacLeod, managing director of Songa Shipmanagement, which manages the Hawk, said: "Usually the rigs we carry are between 10,000 and 20,000 tons.
"These are specialist ships, they are called semi submersible transport vessels.
"They have very large ballast capacity and a very open deck. They ballast the vessel under the water when they are fully submerged the middle is completely under the water.
"The tugs tow the rig into position above the deck and the ship de-ballasts and lifts the rig onto the deck of the vessel.
"Tugs can tow a rig to a destination but it is very slow and you are really up against the elements, like the rig that crashed recently on the west coast.
"A semi submersible lifts it clear of the water and transports it as a cargo at high speed and optimum safety."
After leaving Nigg, the Hawk will sail to Stornoway. On Tuesday it is due to collect the Transocean Winner rig and take it to Turkey to be scrapped.
Recommended for you

'Skyscraper' rig shows contempt for people of Torry, say protestors