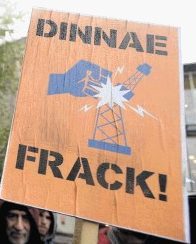 Environmental campaigners have claimed victory after a ban on an ad warning that fracking would not cut energy bills was overturned.
The advert by Greenpeace urged people to sign a petition against the controversial process of fracking for shale gas which, it claimed, "threatens our climate, our countryside and our water.
Yet experts agree – it won't cut our energy bills".
The Advertising Standards Agency (ASA) originally banned the ad, which appeared in January last year, following a complaint by pro-fracking peer Lord Lipsey, but has reversed the decision following an appeal from Greenpeace.
When he was prime minister, David Cameron said his government was going "all out" for shale gas exploitation in the UK to boost energy security, create jobs, and cut energy prices.
But opponents fear fracking – in which liquid is pumped deep underground at high pressure to fracture rock and release gas – can cause environmental damage and is not compatible with efforts to cut fossil fuel use to stop global warming.
Lord Lipsey questioned whether the claim in the ad that experts agreed fracking would not cut energy bills was misleading and if it could be substantiated.
The advertising watchdog originally said there was a "significant division of informed opinion on the issue".
In its ruling last year, the ASA highlighted quotes supplied by Greenpeace, including ones from Mr Cameron, which it said showed a different view from that of 22 organisations and people who said it would not cut energy bills.
But following the appeal by Greenpeace, it has accepted that experts including from the UK Energy Research Centre and the Government's own Department of Energy and Climate Change believed the impact on energy prices of shale to be small.
In its new ruling, the ASA said: "We noted a minority of the quotes provided by Greenpeace decisively stated that fracking would not reduce the cost of energy bills.
"While a range of more conditional expert views also existed, the general consensus among most appeared to be that a meaningful reduction in UK domestic energy bills was highly unlikely and/or was limited to a small number of potential scenarios."
Greenpeace UK fracking campaigner Hannah Martin said: "This was a farcical attempt to stifle the crucial public debate on fracking, and it should have never happened.
"This U-turn is an embarrassment not just for the advertising watchdog but for all the industry advocates who keep touting fracking as the miracle cure to high energy bills.
"As the Government desperately resorts to offering cash bribes to shore up support for this controversial industry, this decision will be a reminder that the benefits of fracking are, at best,
uncertain whilst the side-effects are stark.
"Spoiling our countryside and increasing air pollution and climate-warming emissions are not a price worth paying for the sake of this industry."
She called on Prime Minister Theresa May to reverse policies that had harmed the renewable energy sector and back those technologies.
Recommended for you

Greenpeace graffities French FSRU at sea