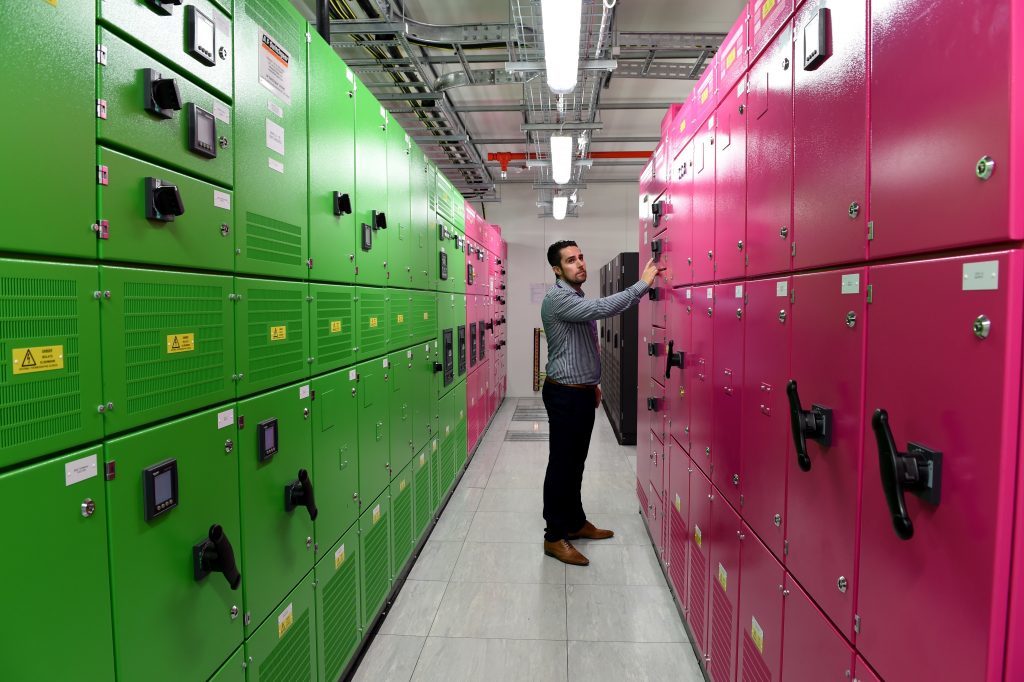 Scottish cloud computing and data centre partner brightsolid is celebrating the first anniversary of its £5million technology hub in Aberdeen.
Completed in just nine months and officially opened on October 1, 2015, the high-tech facility houses masses of computer-generated information.
The 23,700sqft centre can hold the equivalent of more than 100,000 MacBooks.
It is on the site of Aberdeen Journals – home to the 269-year-old Press and Journal, Scotland's oldest daily newspaper, and the Evening Express – on the Lang Stracht.
Contracts worth more than £4million were secured for the centre within just a few months, including a £3million deal with Aberdeen City Council which sees Dundee-based brightsolid looking after the local authority's technology and service delivery requirements through to May 2017.
The council needed a flexible IT partner who could guarantee that all citizens, no matter how remotely located, have fast access to its services at all times.
Key digital information is held securely in brightsolid's hi-tech facilities, while there is also a disaster recovery plan in place to make doubly sure the data is safe.
Brightsolid, which is part of publishing group DC Thomson, also migrated the council's entire IT estate to its private cloud in just six weeks.
Council finance convener Willie Young later hailed the work, saying the local authority was "impressed with the quality, flexibility and personalisation of service during transition to the new arrangements in extremely tight timescales, with minimum interruption to normal service".
Mr Young added: "In brightsolid, we have found a partner with whom we can innovatively work as we digitally transform our council services while also reducing our operational costs."
Now a year old, the data centre has already gone a long way to helping make Aberdeen a digital technology centre of excellence.
It has "Tier III" status for its multiple security systems, meaning data is exceptionally well protected from natural hazards and human threats.
Power outages are not a problem, thanks to impressive back-up arrangements which will keep the servers running permanently.
Richard Higgs, chief executive of brightsolid, said: "Our primary facility in Dundee was reaching capacity due to the positive market response to our clouds, and expansion was always in our business strategy.
"After a detailed review of the market, we realised that Aberdeen had an absolute need for a world-class data centre and cloud partner that could help deliver on cost-saving efficiency objectives.
"It took nearly a year of planning, proving the business case, selecting the right design and builders before we could move forward.
"Then we discovered that the mighty seagulls of Aberdeen, which clearly live off larger fish than our Dundee gulls, were actually eating the roof and in particular the mastic that was used to fix leaks in what had been the paper store of the newspaper group in the past.
"An easy solution was reached – spend £250,000 on a new roof to ensure the seagulls could return to their normal diet and that our facility would not need a midlife upgrade."
Mr Higgs added: "Sometimes tough decisions are easy if you have clear rules of engagement and values.
"This approach to operational excellence shines through the entire building and, particularly for me, in two key areas: super computing power in a rack – a huge amount of power that we can deliver without any disruption – and, secondly, the fact that we can upgrade the power without any disruption to our critical switch gear.
"This allied to an excellent and proven team and culture has enabled us to take great pride in faultless data centre operation during our first year.
"I would really like to thank all of those customers that have come in and friends that have come to support us. We are enormously grateful for your belief in ours and our partner's commitment in bringing this facility to life.
"One day soon we will have Microsoft's first Azure developer clouds in Europe operating from Aberdeen. We are committed to putting Aberdeen on the map for technology excellence. "
Cost savings for the city council alone are running at £250,000 a year after the local authority, unhappy with the service it received from a previous provider, turned to brightsolid to host its IT infrastructure.
To read more about how brightsolid, which provides industry-leading IT solutions to oil and gas, public sector and enterprise organisations, tackled the project click here.
Recommended for you

'Polluters' targeted as hundreds of protestors head to Aberdeen climate camp