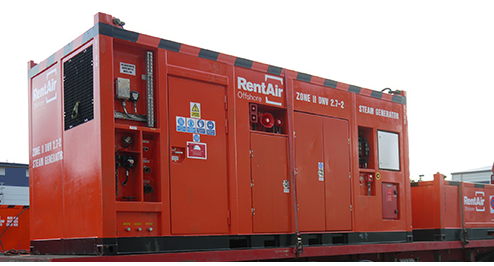 A division of oil and gas firm ATR has moved to a new location following its merger with rival Centurion group earlier this year.
Staff of ATR Power Solutions have moved into the premises of its new sister company Rentair Offshore in Dyce.
The move comes just over a year and half after ATR Power Solutions took over a new purpose built workshop and office at ABZ business park, also near the airport.
The combined business, which will trade under the Rentair Offshore brand, brings together the products and services of both companies in the rental of specialist air compression, steam and power generation equipment.
Robbie Garden, divisional director of Rentair Offshore, will continue in this role, working alongside commercial director, John Cooper – formerly divisional director of ATR Power Solutions. George Mess, operations director, will continue to provide technical support to the business.
In a statement, Mr Garden said: "Under this merger, the position of both businesses is significantly strengthened through enhanced and increased capability and capacity in what continues to be a very challenging market. A wider service and product range, with combined and complementary technical expertise delivered globally, offers greater efficiency and added-value to our customers as they continue to seek to rationalise the supply chain and drive down costs."
The firm did not disclose if the merger has led to job cuts at the division. A spokeswoman for the firm was unavailable for comment yesterday.
Rentair's reach through bases in Aberdeen, Great Yarmouth, Netherlands, Singapore, Australia and the US will be added to through the ATR Caspian business in Baku, Azerbaijan.
Keith Moorhouse, chief executive of Centurion, said: "After only a little over eight weeks, we are already seeing the benefits from the merger of Centurion and ATR Group. The combination of two of our businesses, RentAir Offshore and ATR Power Solutions, builds on what has been achieved so far through a broader range of products and services available globally and delivering much more cost-effective solutions."
Centurion Group and ATR Group merged in July creating an £100million Aberdeen-based company.
Under the deal, private equity firm SCF Partners, which has backed Centurion since 2013, became become the majority shareholder in the group, with ATR's owners, NBGI Private Equity retaining a stake.
Centurion Group comprises six business units: Conserve Oilfield Services, Jacks Winches, RentAir Offshore, Seanic Ocean Systems, Tristar Water Solutions and Mining Camps Australia.
ATR's five business units are ATR Equipment Solutions, ATR Lifting Solutions, ATR Power Solutions, Underwater Engineering Services and Safety & Technical Hydraulics.
Recommended for you

Equinor extends Aker Solutions maintenance contract at Johan Sverdrup