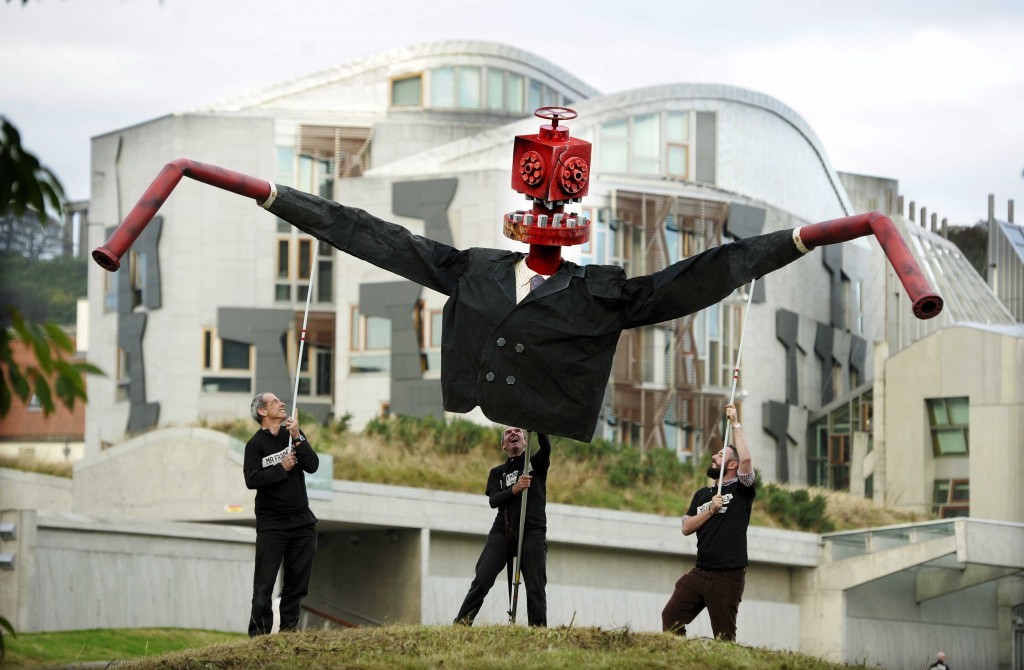 The Government has been accused of denying local democracy after it gave the green light for a controversial fracking scheme in Lancashire.
A scheme to drill up to four wells and frack for shale gas at Preston New Road, Fylde, which had been turned down by Lancashire County Council, has been given the go-ahead by Communities Secretary Sajid Javid following an appeal.
A second site in Lancashire, Roseacre Wood, has not yet been given the green light amid concerns over HGV traffic and road safety in the area.
Environmentalists and local campaign groups reacted angrily to the decision, which they said went against the wishes of residents and threatened the environment.
But business groups welcomed the "important step forward" for developing new domestic gas sources to provide energy and reduce the UK's dependence on imports.
When David Cameron was prime minister, he said the Government was going "all out for shale" to boost the economy, jobs and energy security, and soon after she took over as PM, Theresa May launched a consultation which could see home owners receive individual payments for fracking wells drilled nearby.
But the process – in which liquid is pumped deep underground at high pressure to fracture shale rock and release gas – remains highly controversial, with many protesters turning out for the public inquiry.
Opponents of fracking fear it can cause earthquakes, pollute water, lead to damaging development in the countryside and hit house prices.
With the Government set to ratify the global Paris Agreement on cutting greenhouse gases before the end of the year, environmentalists argue fracking for fossil fuels is not compatible with tackling climate change and the focus should be on renewables.
The two bids by shale gas company Cuadrilla to frack between Preston and Blackpool were turned down by Lancashire County Council last year, although officials had backed the Preston New Road scheme.
Cuadrilla appealed and following a public inquiry earlier this year, the planning inspector recommended giving planning permission to the Preston New Road scheme, but said the bid for Roseacre Wood should be dismissed.
Mr Javid said he was giving Cuadrilla and other people further opportunity to address concerns about the Roseacre Wood site, and was "minded" to allow the appeal and grant planning permission if issues surrounding highway safety could be dealt with.
Mr Javid agreed that "all material, social, economic or environmental impacts that would cause demonstrable harm would be reduced to an acceptable level and that the projects represent a positive contribution towards the reduction of carbon".
Pam Foster, co-founder of Residents Action on Fylde Fracking, who lives in nearby Lytham St Annes, said she was "absolutely disgusted" that the Government had disregarded evidence that fracking is bad for public health and the environment.
"This is a total denial of democracy. Our parish council, our borough council, our county council all threw out this application.
"We have pursued every democratic channel we can do, there's nothing left for us. We're pretty disgusted and very upset."
She insisted the campaigners would continue to fight fracking "peacefully and legally".
Lancashire County Council's cabinet member for environment, planning and cultural services Marcus Johnstone said the applications were one of the biggest put before a council, with tens of thousands of responses to the consultation.
"Our development control committee carefully considered many hours of evidence both for and against the proposal, and the committee members ultimately cast their vote based on the evidence they heard and whether they thought the proposal was acceptable in planning terms.
"A local council, made up of councillors democratically elected by local people, and charged with serving their interests, is exactly the right body to make decisions on local matters.
"It is clear that the Government supports the development of a shale gas industry, but I would ask them to do more to address the concerns of local communities and the councillors who represent them by supporting the best environmental controls."
Recommended for you

Liz Truss risks Tory backlash over end to fracking ban