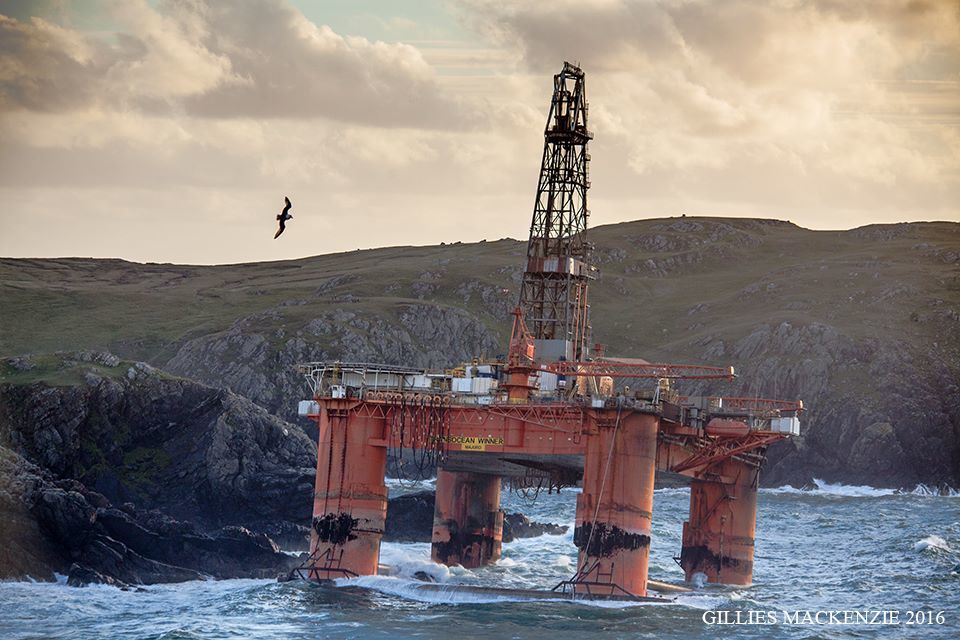 The oil rig that crashed into the Outer Hebrides is believed to have run up a bill of "at least" £38m.
The 17,600-tonne Transocean Winner is due to resume her voyage to a a Turkish scrapyard tomorrow after being floated on to the deck of a heavy lift ship last week.
But the Goverment official who has overseen the operation says the bill will be "considerable" with some of the tugs involved – let alone the massive heavy lift ship Hawk – costing around £60,000-a-day.
Unofficial sources have said that two months after the drilling rig came ashore at Dalmore near Carloway on Lewis in a storm, Transocean has already run up £38m in costs.
Local fishermen who suffered have already been paid in full and Western Isles Council confirmed that the oil company would be giving £120,000 for "community benefit."
But said a spokesman:"Our involvement in the Transocean incident is not yet concluded and we therefore do not have a final figure of the council's costs.
"The community benefit money will be split between the community of Carloway and a general fund for sports/youth activities."
Duncan MacInnes, secretary of the Western Isles Fishermens' Association, said that three members who fished in the Dalmore area had been paid in full and another affected by the current
exclusion zone around the rig in Broad Bay on the east side of Lewis – where it was moved to – was also going through the process of settlement.
Details of the deals were being kept confidential at the request of Transocean but it is believed to runs into thousands.
However the figures will pale into insignificance compared with the total salvage bill, admitted Hugh Shaw, Secretary of State's Representative Maritime and Salvage Intervention, who has overseen the operation.
"Without doubt it will cost millions. I think £38m will be very conservative. It will cost that at least, I would have thought.
"Some of the tugs involved cost £50,000 to £60,000-a-day. And there have been a lot of vessels involved. It is not a cheap business."
As a comparison Mr Shaw referred to the 62,000-ton container ship, Napoli, which suffered a "catastrophic" hull failure in the English Channel in January 2007.
The total bill for the wreck was put by its insurers at £120 million.
"With this salvage operation, there were over 200 people involved at Stornoway alone at one time," said Mr Shaw.
"That is without taking into account government departments and people globally contributing. The costs will be considerable."
He also admitted that the forthcoming Royal National Mod to be held in Stornoway from Friday – with accommodation scarce for the thousands that it draws – "had crossed our minds" in getting the salvage done.
If the rig had not been floated on to the Hawk last week, it could have been in Broad Bay all winter.
Mr Shaw said other yards were looked at – including Arnish at Stornoway, Kishorn on the west coast of the mainland and Harland and Wolff in Belfast.
But for a variety of technical and other reasons all were ruled out.
"To have a rig of this size ground in a remote part of Scotland, I think we have done remarkably well to get it sorted in two months. It is a major achievement," said Mr Shaw.
"The Napoli took 970 days. The salvers did a fantastic job. It could have easily been a wreck removal."
A spokeswoman for Transocean declined to comment on the expected cost of the salvage, clean-up and compensation.
But added:"Transocean is fully prepared to meet its responsibilities arising from this incident and is promptly responding to enquiries received."
The Maritime and Coastguard Agency will also help collate the bill from other public bodies.
The rig is expected to begin its journey around noon today (Wed) and take nine days to reach Malta. It will then head to a Turkish scrapyard, arriving by the end of the month.
"From the initial grounding we could have been looking at a wreck removal. From getting her off Dalmore and towing her to Broad Bay and then floating her on the Hawk was a great relief to everyone. It worked well," added Mr Shaw.
"There have been a lot of positives, including a lot of support locally from the emergency services, authorities and engineering companies.
"Most people I have spoken to are sad it is going and say they will miss her. Any pollution has been extremely minimal."
Around 50 litres of oil are thought to have leaked from the rig during last week's floating operation. When it came ashore on August 8 it released 56,000 litres of diesel – most of which evaporated.
Ironically the rig's grounding was welcomed by local business who have benefited from a boom in accommodation and other supplies and services for the scores of people involved in the salvage.
Once in Malta, parts of the rig such as its generators will be stripped off for recycling before the structure is moved to a yard in Turkey to be broken up.
A tow line between the Transocean Winner and a tug broke causing the rig ran aground at Dalmore on the west side of Lewis. It was towed two weeks later to Broad Bay on the other side of the island.
The Marine Accident Investigation Branch is carrying out a probe into the incident.
Recommended for you

Offshore rig day rates could surge to $500,000