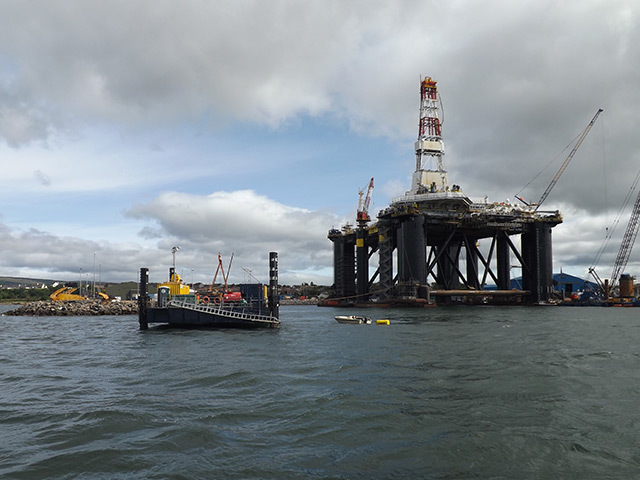 An unprecedented coalition of conservation groups has been formed to oppose ship-to-ship oil transfers in environmentally sensitive Highland waters.
Whale and Dolphin Conservation (WDC), the Marine Conservation Society (MCS), the Scottish Wildlife Trust (SWT), RSPB Scotland, WWF Scotland and the National Trust for Scotland object to the Cromarty Firth Port Authority's plans for transfers at the mouth of the firth.
They consider the proposal a "severe threat" to dolphins and seabirds.
The port authority has previously played down pollution fears, quoting Maritime and Coastguard Agency figures stating that have been only three reported ship-to-ship oil releases in the UK since 2005 – one of five litres, one 10 litres and one 250 litres.
The six opposing organisations, however, claim the port's assessment of environmental impacts was "inadequate and falls short of what's required under EU habitat law."
The proposed location for the oil transfers is within the Moray Firth Special Area of Conservation for bottlenose dolphin and the proposed Moray Firth Special Area of Protection for a wide range of seabirds.
The objectors say the Inner Moray Firth and the Moray and Nairn Coast Special Protection Areas would also be at risk along with the Culbin Bar Special Area of Conservation.
Lang Banks of WWF Scotland said: "Ship-to-ship oil transfers are an unnecessary risk. Even a small leak could prove devastating for some species."
Local SNP councillor Craig Fraser, who has added his voice to a vocal community campaign opposing the port authority's licence application, said: "I'm delighted that the natural environment statutory consultees have united with a common voice. This application is ill thought out and ill conceived."
A spokeswoman for the port authority said: "We take our environmental responsibilities extremely seriously. Any work undertaken at the port must take the environment into account in accordance with national and international legislation.
"We believe it is possible for environmental sustainability and economic growth to go hand in hand and the port continues to demonstrate that."