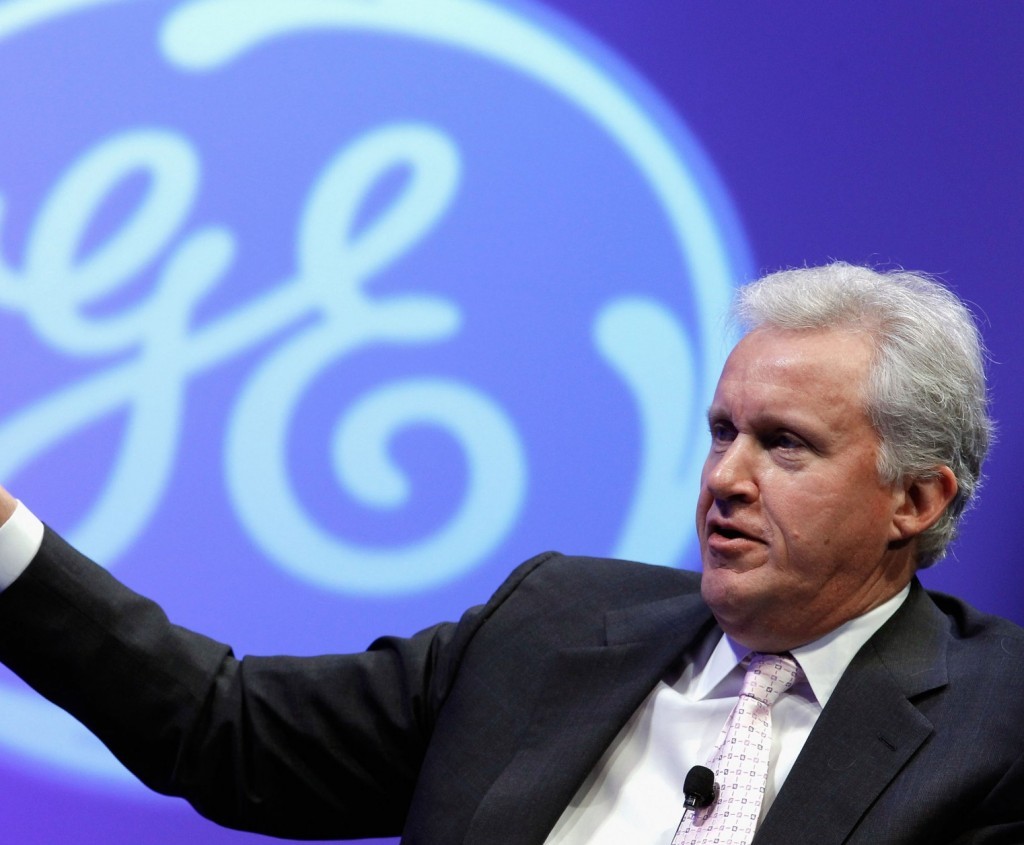 General Electric Co. is on a years-long quest to refocus on industrial-equipment manufacturing while shedding its financial operations — a move that hasn't been kind to Chief Executive Officer Jeffrey Immelt's wallet.
Immelt, 60, received 600,000 stock options as part of his equity compensation for 2016, according to a regulatory filing issued Monday by Boston-based GE. He can exercise those options by 2021 and reap gains if GE's stock rises above the $28.28 strike price. That would help soften the blow from the 2.43 million shares and options he's had to forfeit over the past five years after failing to meet goals.
The CEO has lost out on at least 425,000 shares tied to targets for cash flow and total stock return versus the S&P 500 Index that weren't achieved during the five-year performance periods, filings show. A special grant of 2 million options was canceled for similar reasons, causing Immelt to lose out on a potential $19.1 million windfall when they vested in full in March 2015. Options granted in 2015 are currently underwater.
GE's deal with Baker Hughes Inc. could help turn the tables for Immelt. His past awards have largely been tied to cash flow and total shareholder return — measurements that might get a boost from the $1.6 billion in revenue and cost benefits GE expects to receive. The company also anticipates the merger will add 4 cents to 2018 per-share earnings, nudging it closer to a stated goal of $2.00 for that fiscal year. The merger-benefit projections are based on oil prices rising to $60 a barrel in coming years, which might be "overly conservative," Barclays Plc analyst Scott Davis said last week in a note to clients.
The combined entity, of which GE will own 62.5 percent, will have $24 billion in sales in 2017 according to estimates, making it the world's second-biggest oil services and equipment company. GE's shares have slumped 5.9 percent this year through Monday after rallying 23 percent in 2015.
Immelt has plenty of financial interest in the success of the merger. Unlike many other executives who have trading plans that periodically sell some of the stock they receive from equity awards, the CEO hasn't sold a single share since he became company chief in 2001. In the past decade, he's also purchased more than 850,000 GE shares for a combined $24.9 million, according to data compiled by Bloomberg. Their aggregate value has barely grown, reaching $25 million as of Monday's close.
Still, Immelt hasn't worked for free. His salary, bonuses, payouts of cash-settled performance awards and values of certain benefits over the past five full fiscal years total $69.3 million.
A GE spokeswoman declined to comment beyond the company's regulatory filings.