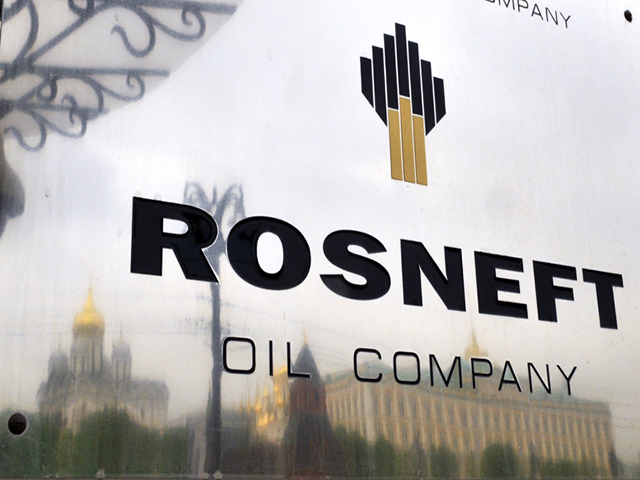 Glencore Plc and Qatar's sovereign wealth fund are using 2.8 billion euros ($3 billion) in equity and $7.8 billion in financing from a bank consortium led by Italian lender Intesa Sanpaolo SpA to buy their stake in Russian oil company Rosneft PJSC.
The financing will be backed by the two companies' shares in the oil group, Rosneft said in a statement on Saturday. Glencore had already said Wednesday that it'd invest 300 million euros in equity, leaving Qatar, the largest shareholder in the commodities trader, shouldering about $2.7 billion for the 19.5 percent stake in the oil company. Glencore said late Saturday that Russian banks will guarantee up to 1.4 billion euros of financing, without disclosing their names.
The announcement on financing marks a step forward in what was a surprise deal struck despite U.S. and European Union sanctions against Russia. It's the largest foreign investment in Russia since the crisis in Ukraine in 2014 and has been widely seen as a triumph for both Rosneft Chief Executive Officer Igor Sechin and Russian President Vladimir Putin who announced Rosneft's partial privatization on state television earlier this week.
"The privatization deal is unprecedentedly complicated and is the largest in the history of the nation," Sechin said in a statement. "In extremely negative external conditions, we have done immense work to find interested strategic investors."
Russia is selling assets to raise money as it battles the longest recession in two decades, triggered by a collapse in oil prices and the fallout from Western sanctions. The Rosneft deal would help close the nation's budget deficit, which grew to the widest in six years.
For a look at how the deal reopens the battle for Russian commodities, click here.
Sechin described Qatar and Glencore as "truly strategic" investors and left the door open for more deals with them. "I am sure that the cooperation will bring synergy for Rosneft shareholders also, thanks to further investments of the partners in the company's projects," he said.
Higher Distributions
Rosneft said in its statement that for "the foreseeable future" it'll distribute among shareholders at least 35 percent of its net income, compared with 25 percent previously. The changes were approved by Rosneft's board as part of the preparation to sell a stake in the company.
Once the sale is complete, the Russian government will retain a controlling stake in Rosneft. BP Plc owns 19.75 percent of the company.
The U.S. is reviewing the deal to determine whether it violates Western sanctions against Russia, according to Amos Hochstein, the U.S. State Department's special envoy for international energy affairs. "Clearly this is not what we were hoping for when we implemented sanctions," he said on Bloomberg TV Thursday.
Trading Boost
The deal with Rosneft is a boost for Glencore's oil trading arm — the second largest among independent trading houses — with an agreement to sell an additional 220,000 barrels of crude a day from the Russian energy giant. Glencore already had a deal to sell Rosneft oil after signing a five-year sales accord with the Kremlin-run producer in late 2012.
The trader and miner, led by Chief Executive Officer Ivan Glasenberg, is recovering from a downturn in commodities. This month, it completed an asset sale program to lower debt and resume its dividend.
"Glencore has gone from a position of weakness to a position of strength this year," Jefferies Plc analyst Chris LaFemina said in a note Friday. The deal is "a small positive for Glencore, although some investors may worry about the associated geopolitical risk."
Recommended for you

Oil trading giant Vitol posts record profit of $4.2 billion