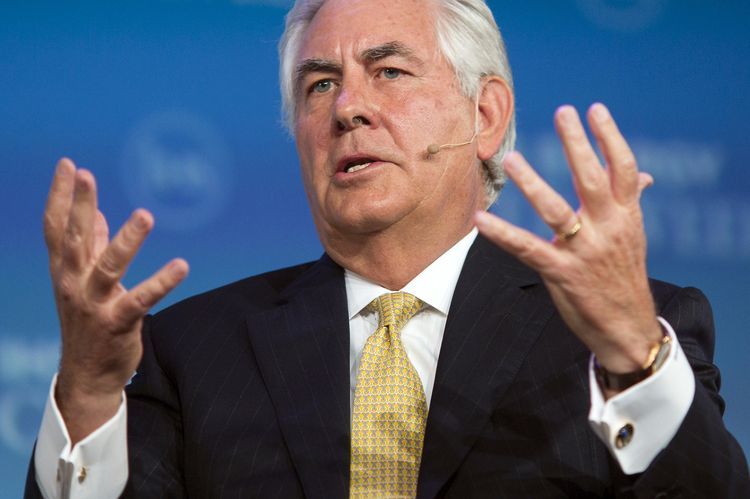 Even before Donald Trump tapped him to be the top U.S. diplomat, Rex Tillerson already had his own State Department.
Behind the walls of Exxon Mobil Corp.'s secluded corporate headquarters in suburban Dallas, a little-known intelligence unit works to keep top executives informed on economic, social and political situations around the world so they never walk into a foreign negotiation unprepared.
The team of analysts compile risk profiles of every place Exxon has assets and personnel, or may be considering investing, said people familiar with the operation. The unit's work underpinned every meeting Chairman and Chief Executive Officer Rex Tillerson engaged in, including talks with foreign leaders such as Russia's Vladimir Putin, the people said, asking not to be named because they aren't authorized to speak publicly on the topic.
As President-elect Trump's surprise pick for the U.S. Secretary of State, Tillerson, an engineer and Exxon lifer, has been criticized as a diplomatic neophyte with no government experience. But according to the people, Tillerson and other top executives receive regular briefings from the intelligence unit. These take the form of risk-assessment profiles based on a mix of the following:
Hard data about economic conditions and trends gathered by Exxon's strategic planning department; Open-source intelligence such as academic journals, news outlets, government communiques, blogs and conference presentations; Discussions with overseas diplomatic sources; Confidential reports from Exxon executives posted to foreign capitals;
"He's highly respected around the world, he's deeply knowledgeable," OPEC Secretary-General Mohammad Barkindo said Thursday in a Bloomberg TV interview. "There's a very thin line between oil, diplomacy and geopolitics."
For more on Tillerson's experience with Russia, click here
Exxon's need for accurate, nuanced insights into national and local power structures increased in recent decades as oil-rich countries demanded better compensation for harvesting their resources and more control over the projects. The phenomenon, known as producer power, led to the formation of OPEC, oilfield seizures in Venezuela and costly contract revisions from Africa to Central Asia.
"Unfortunately, large oil fields are as likely to be found in politically demanding locations as they are in technically and physically demanding ones," historians Joseph Pratt and William Hale wrote in "Exxon: Transforming Energy: 1973-2005," a company history that drew on executive interviews and corporate archives housed at the University of Texas.
In response, Exxon cultivated "greater capabilities for addressing political risks, which have become even more difficult to manage since the coming of producer power," according to Pratt and Hale.
Exxon operates about 45,000 oil and natural gas wells in more than two dozen countries from Australia to Norway and employs about 73,000 people. The Irving, Texas-based company pumps enough crude to fill a supertanker every 22 hours and its annual sales dwarf the economic output of most nations.
Tillerson, 64, will be the first oil executive and only the second Texan to occupy the nation's top diplomatic post if he is confirmed by the Senate. Refining boss Darren Woods will succeed Tillerson as chairman and CEO of the world's biggest oil company by market value on Jan. 1.
"I'm in the risk management business," Tillerson told television interviewer Charlie Rose in 2013. The remark was in the context of Exxon's views on climate change and the financial and environmental risks it poses.
Recommended for you

India's ONGC eyes more Russian oil and gas assets