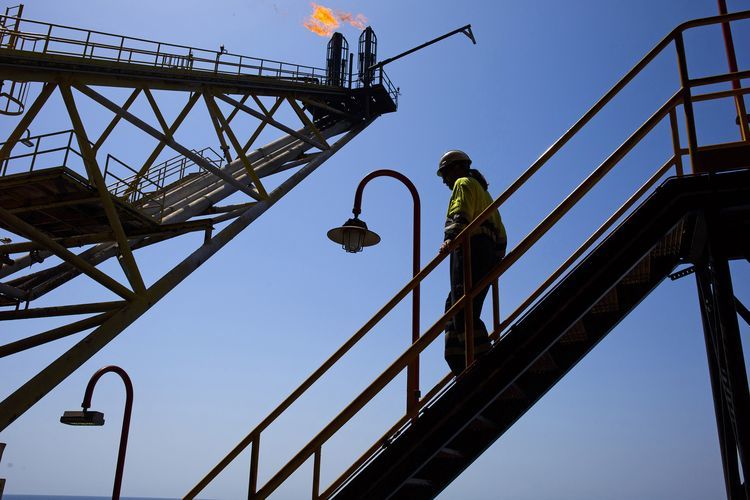 Brent oil rose to the highest close in almost 18 months after U.S. government data showed strong job and wage gains while Kuwait and Saudi Arabia signaled they are curbing output.
Futures climbed a third day after Labor Department data showed that the world's biggest crude-consuming country added 156,000 jobs in December, while wages rose the most since 2009. Kuwait is trimming slightly more than it promised under OPEC's Nov. 30 accord, while Saudi Arabia told Asian customers to expect additional oil export cuts in February after reducing output by the full required amount, according to people with knowledge of the situation.
"The jobs numbers were pretty good, which is good for oil demand," Bill O'Grady, chief market strategist at Confluence Investment Management in St. Louis, which oversees $6.1 billion, said by telephone. "We've priced in an enormous amount of good news. Now, OPEC has to deliver on its promises."
Oil last year capped its biggest annual gain since 2009 as the Organization of Petroleum Exporting Countries and 11 nations from outside the group agreed on a plan to reduce production. While suppliers including Kuwait, Iraq and Oman say they have started to curtail output, an increase in volumes from countries such as Libya — exempt from cuts — could put pressure on others.
Brent for March settlement advanced 21 cents, or 0.5 percent, to $57.10 a barrel on the London-based ICE Futures Europe exchange. It was the highest close since July 17, 2015. Total volume traded was 29 percent below the 100-day average at 3:41 p.m. in New York. The global benchmark crude closed at a $2.23 premium to March West Texas Intermediate contracts.
Early Decline
WTI for February delivery rose 23 cents, or 0.4 percent, to settle at $53.99 a barrel on the New York Mercantile Exchange.
Prices briefly dipped as the dollar advanced after the release of the jobs numbers. A stronger greenback reduces investor interest in commodities priced in the currency.
"The increase in wages and the number of employed point to stronger demand, which should be supportive," Carl Larry, director of oil and gas at consultant Frost & Sullivan in Houston, said by telephone. "On the other hand it strengthens the dollar, which may eventually send us lower. It's both good and bad for the market."
See also: Will OPEC deliver promised output cuts? Here's how we'll know
Saudi Arabia is staying in the contest for market share by maintaining supplies of the type of oil that's similar to rival U.S. and African supply, while fulfilling promised cuts by curbing production of other varieties. The nation plans to idle some fields producing Arab Medium and Arab Heavy crudes, according to people with knowledge of the matter.
Oil-market news:
State-owned Saudi Arabian Oil Co. boosted its official pricing for Arab Light crude to Asia by 60 cents a barrel to 15 cents below the regional benchmark, it said in an e-mailed statement. Iraq is the most likely to cheat on the OPEC deal to curb output, Energy Aspects said in a research note. Kuwait wants other oil producers to ensure that cuts in crude output are accompanied by reduced exports, according to a person familiar with the nation's oil policy.
Recommended for you

Brent near $64 with Goldman Sachs predicting more gains