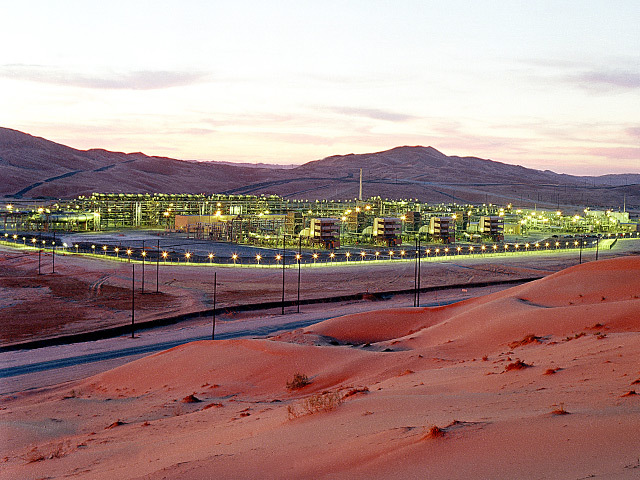 Saudi Arabia says OPEC is on track to wrap up its production curbs by the middle of the year. That would leave its aim of clearing a global oil glut unfinished.
OPEC and Russia won't need to prolong output cuts beyond June because the agreed reductions will have already ended the oversupply in world crude markets, Saudi Minister of Energy and Industry Khalid Al-Falih said in Abu Dhabi on Monday. However, ending the deal by mid-year and restoring production would mean the surplus just starts building again, thwarting OPEC's ambition of whittling down bloated oil inventories.
The Organization of Petroleum Exporting Countries said that draining off a stockpile "overhang" of more than 300 million barrels — enough to supply China for almost a month — was the main aim of supply curbs agreed with Russia and other producers. Twenty four nations signed up to a joint cutback of 1.8 million barrels a day on Dec. 10.
If they extend the deal for six months beyond its scheduled expiry in June, that surplus will be entirely eliminated by the end of the year, according to Bloomberg calculations based on data from the International Energy Agency. If they don't prolong the cuts and instead restore output to previous levels, about two-thirds of that glut will remain in place.
"If the reduction is of such short duration, this will hardly be sufficient to balance the oil market," said analysts at Commerzbank AG led by Eugen Weinberg in Frankfurt. "In this case the market participants who bet on rising prices will probably withdraw from the market, putting corresponding pressure on prices."
Brent oil for March settlement traded at $55.69 a barrel, down 17 cents, on the London-based ICE Futures Europe exchange at 1:18 p.m. in Hong Kong. The contract gained 41 cents to $55.86 a barrel on Monday. Prices have averaged about $55 since the start of December.
When OPEC announced its original deal in Vienna, the group said it could be extended for another six months to "take into account prevailing market conditions and prospects." Al-Falih said producers will reassess the situation
Recommended for you
X

Jeremy Cresswell: Industry was lucky to have Opito's David Doig