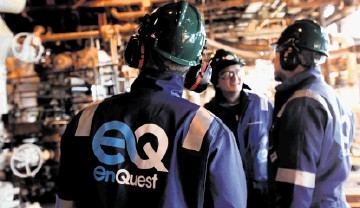 Enquest has posted its highest annual production since the company started seven years ago.
The oil and gas firm's production in the UK North Sea was up 11.3 % last year compared to 2015 results.
Production averaged 39,751 Boepd in 2016, up 8.7% on 2015.
However final production was adversely affected by the shutdown of the Brent pipeline system, which took a week longer to bring back onstream than initially estimated.
The UK based exploration and production company's operating expenditure (opex) for 2016 is expected to be around "the lower end" of full year guidance of around $25 to $27 a barrel (bbl).
It comes as the firm bought a significant stake in of BP's North Sea fields – a deal which includes the right to buy 100% of the asset.
The company will invest in another 9% of the Northern Leg Gas Pipeline and 3.8% of the Ninian Pipeline System.
Final year capital expenditure for 2016 is expected to be at the lower end of initial estimates, of around $620million to $670million.
Net debt as at 31 December 2016 is expected to be approximately $1.8 billion
EnQuest is currently on the verge of getting oil from one of its cornerstone projects, the Kraken.
One of the largest developments in the UK North Sea, Kraken has an anticipated production life of around 25 years.
First oil is expected in Q2 this year, with the project on time and under budget.
EnQuest's production in 2017 is expected to average in the range of 45,000 Boepd to 51,000 Boepd for the full year and will be dependent on the timing of Kraken first oil.
The company looks to reduce opex in the range of $21 to $25 a barrel, as well as seeking "cost reductions" across the supply chain.
Cash capital expenditure is forecast to reduce in 2017 and is expected to be in the range $375 million to $425 million, the majority of which is being invested in the Kraken development.
Chief executive officer Amjad Bseisu said: "EnQuest is delivering reductions in operating and capital expenditure and we continue to streamline our operations.
"Our low cost operating structure and our low cost approach to operatorship are integral parts of our way of doing business – whilst always retaining safe operations as our number one priority."
Recommended for you
X

Energy chief predicts North Sea renaissance