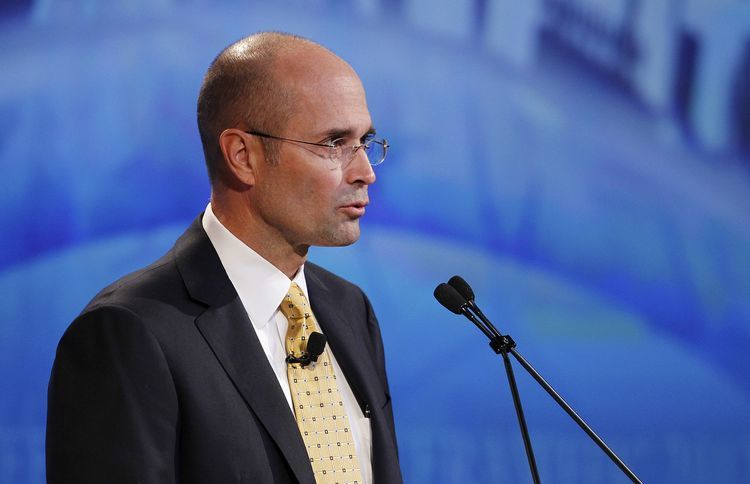 Martin Craighead's knack for innovation helped turn Baker Hughes Inc. into a sort of Apple Inc. for oil services.
Under his tenure as chief executive officer, the company became a coveted asset that rival Halliburton Co. sought to take over in a failed $35 billion deal. And it was technology that led him to favor a partnership with General Electric Co. instead.
Set to become the world's second-largest oil-services provider after merging with GE Oil & Gas, Baker Hughes will get the chance to combine its digital applications with the industrial giant's internet-of-things platform to integrate oil rigs with customers' software systems in real time. As Baker Hughes reports fourth-quarter results Thursday, investors expect to get further insight into Craighead's latest feat.
Speaking last month at his first investor day with GE Oil & Gas executives Craighead, 57, said: "I was blown away with the complementary benefits from the technology.
"I see an opportunity to create a company that frankly has never existed in this industry."
A bit of a Steve Jobs type is how Joel Tarver, who was responsible for digital applications at Baker Hughes, remembers the first time he saw Craighead in front of a crowd in 2006. With his close-cropped hair and glasses, and an intensity in his eyes, Craighead rolled out the new "Answers While Drilling" pitch to a company audience – much like the late Apple co-founder's presentations of iPhones and iPads.
It was all about giving customers information at the same time that they were drilling so they didn't have to stop and do the analysis.
Tarver, who based one of the apps he developed for Baker Hughes on the Candy Crush smartphone game, said: "It was just a very Apple-esque launch of the brand.
"It's just not something the industry was really well known for, to come out and win hearts and minds."
Years later Craighead made a splash at his first ever analyst day as CEO in a suburb outside Houston. He was offering up a new technology that would aim to take down the most iconic symbol of the industry — the nodding donkey, as the oil pumps that dot fields in Texas are known. Electronic dance music beats accompanied lightning fast graphics on a large movie screen as the new Linear Electromagnetic Actuated Pump, or LEAP, was announced.
So far, LEAP has failed to displace the traditional pumps in any significant way. The company announced its first field trial of the new technology and has not discussed it further since then.
In his spare time, one of Craighead's favorite things to do is fly fishing, said James Wicklund, an analyst at Credit Suisse in Dallas who has known him for years.
Wicklund said: "It lets his mind slow down from racing 500 miles an hour thinking of the next new thing."
But life in the slow lane may not be enough for Craighead, who'll be vice chairman of the new Baker Hughes once the deal is completed next year.
Wicklund added: "He needs to be an operating guy.
"He's too energetic to be just a passive board member. That may be his biggest challenge going forward."
Recommended for you

Baker Hughes sells Russian oilfield services unit to local management