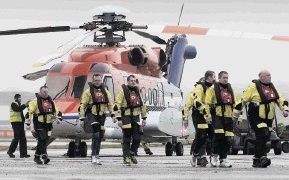 Offshore workers are waiting to hear a 'final offer' on improved pay and conditions with the threat of North Sea strike action looming.
Unite and another union, GMB, want a wage increase for their members, along with improved sick pay and paid travel time.
The unions have been locked in a long-running dispute with the Offshore Contractors Association (OCA) – the umbrella body for offshore contractors – over the changes.
Talks broke down after a deal was rejected at the end of 2016 with the unions voting "overwhelmingly" against it.
Union bosses formally registered a failure to agree with OCA, claiming the offer fell short of members' expectations.
In a joint statement from GMB and Unite, the unions have now said they expect one last offer from the OCA in the coming days.
The statement said: "As previously advised GMB and UNITE have declared a failure to agree with the OCA which has triggered the dispute resolution procedure.
"Trade union officers and the offshore union reps have recently attended direct talks with the OCA.
"We are now awaiting the final written confirmation of a pay offer from the OCA employers within the next few days.
"Once we have formally received the OCA's final offer we will communicate further with our union members."
An OCA spokeswoman said talks were "ongoing".