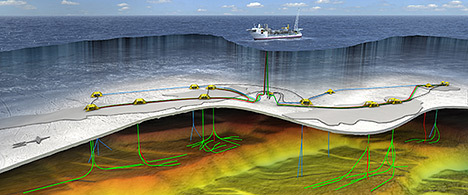 Statoil posted an operating loss of $1.8billion for its fourth quarter results.
The firm credited "exploration wells and high maintenance activity" for the slipping figure.
However, chief executive Eldar Sætre said: "In the current price environment, we delivered solid financial results from our Norwegian operations and from our marketing and trading activity. Our result was impacted by the negative result from our international operations due to expensed exploration wells, high maintenance activity and impairment charges. We delivered strong production and solid operational performance across all segments in the quarter."
The Norwegian company's cash flow stood at $900million.
It has shaved $3.2billion off its costs to date – a $70million improvement on its original target.
"These are lasting effects, and we target an additional $1billion in 2017", added Sætre.
Adjusted earnings were $1.664billion in the fourth quarter, down 6% from $1.778billion in the same period in 2015.
The firm spent $260million on exploration wells in the quarter. Statoil completed a total of 23 exploration wells in 2016.
Net operating income was negative $1.897billion in the fourth quarter compared to positive $152million in the same period of 2015. The result was impacted by $2.3billion in net impairment charges mainly due to reduced long term price assumptions.
The board of directors will propose to the annual general meeting (AGM) to maintain a dividend of $0.2201 per ordinary share for the fourth quarter.
The company also today said it would cash flow positive at $50 per barrel in 2017.
Statoil's break even for its next generation portfolio with planned start-up before 2022 to $27/boe with an average internal rate of return (IRR) of 25%, assuming $70/boe.
Its recoverable resource from that portfolio tops 3.2 billion barrels of oil equivalent.
"We have reset our cost base, transformed our opportunity set, and we continue to chase improvements. We have the financial capacity and are ready to invest in our next generation portfolio with radically improved break evens. With a sharpened high value, low carbon strategy, Statoil is well positioned for the long term and even more value driven in everything we do", added Sætre.
The firm will invest $11billion in 2017 – $1.5billion will be dedicated to exploration activity.
Finally, Statoil expects a 4-5% production growth to 2017 from rebased 2016 production and organic annual production growth of around 3% from 2016 to 2020.
Recommended for you

Oil's wild ride is driven by a disruptive band of bot traders