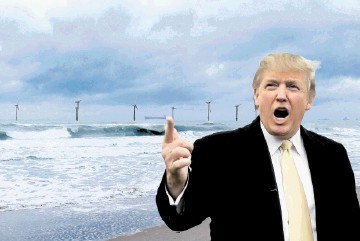 BP chief executive Bob Dudley claims Donald Trump's presidency shouldn't affect the global energy giant's operations.
The business leader admitted that the energy giant has been through a "difficult few years" in the US after dealing with the fallout of the 2010 Deepwater Horizon disaster in the Gulf of Mexico.
But the outlook for the company is looking brighter than it did two years ago when the price of Brent crude took a nosedive.
BP posted a headline profit of $115million for its 2016 year-end results and the last large chunk of the damages relating to the Deepwater Horizon incident are expected to be paid out by the end of the year – lifting a financial burden off the energy giant's figurative shoulders.
The UK's departure from the single European market was also "unlikely" to have any major effects on day-to-day business, according to Dudley.
He said: "For us as a company we have to be very long-term in everything we do. The investments we make today, some of the time they will produce revenue six or seven years down the line.
"Donald Trump is certainly going to be a change in the regulatory environment in the United States.
"How that affects us yet, I'm not really sure.
"We've had our own special difficulties in the US over the last eight years but I don't see a big change for us operating in the country now that we have a lot of our issues behind us.
"Brexit – we are a company where our revenues are in dollars, we pay a dividend in dollars and it hasn't really affected BP."
Dudley said that "a few people" with US Green Cards had been caught up in President Trump's recent travel ban, but added that he was under the impression that all cases had now been resolved without incident.
And as for the 45th president's controversial views on climate change – at one point during his election campaign he called it a Chinese hoax – the BP chief said that would not affect BP's standing on the topic.
But he did admit that they were holding off from investing in one particular low carbon technology until research into a clear winner becomes clearer.
Dudley said: "We're clear that the world is going to move towards a low carbon transition. We're not going to change direction on this.
"We've got big investments in bio-fuels in Latin America, we've got big wind investments in the United States, we're not going to change course on this.
"We hope that the world will help everyone move to this lower carbon transition by setting in place either carbon prices or taxes, or aras of the world could set up effective carbon markets on this.
"We're scanning and screening joint ventures and partnerships all across this. We're not in a position to make a big bet in a certain kind of technology yet because I'm not sure we know enough yet about what to make those big investments in.
"Down the road we've got our financial framework, our balance sheets in place and that's exactly the kind of thing that will allow BP to move into lower carbon energy at the right time and the right place."