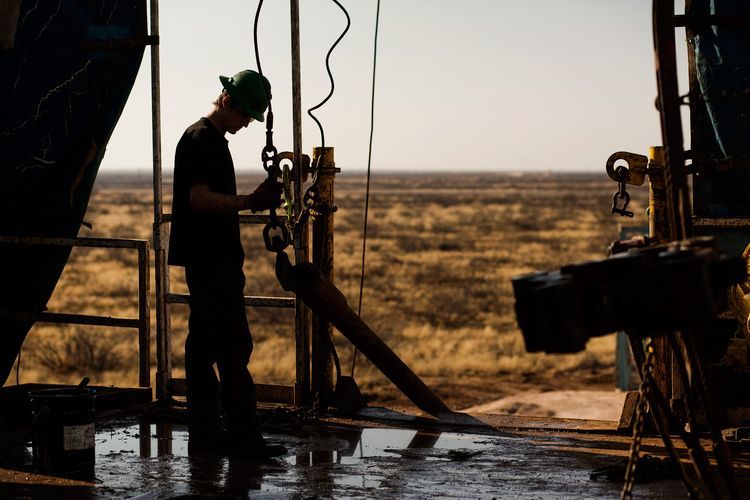 OPEC's worst enemy isn't U.S. shale drillers. It's the hedges propping them up.
American oil explorers who survived the worst of the 2014-2016 market rout are shrugging off the 14 percent slide in prices this year from a high of $55.24 to less than $48 a barrel Tuesday. The price would have to drop to the $30s or lower to dent the bottom line of many drillers now working U.S. shale fields, said Katherine Richard, the CEO of Warwick Energy Investment Group, which own stakes in more than 5,000 oil and natural gas wells.
That's because many producers have already locked in future returns with financial contracts that guarantee the price of their oil for most of the rest of the decade. Such resilience poses a dilemma for countries that agreed to an OPEC-led production cut aimed at tightening supplies to raise prices and relieve their distressed national economies.
"We're in a boom again in Texas, despite what's happening with prices lately," said Michael Webber, deputy director of the University of Texas' Energy Institute in Austin. "The cowboy spirit is back. Hedging is playing a big role."
Oil prices took another hit on Tuesday after Saudi Arabia dropped a bombshell on the Organization of Petroleum Exporting Countries: the Saudis, heavyweight of the 13-nation cartel, raised its output last month to more than 10 million barrels a day, reversing about a third of the cuts it made the previous month.
Though Saudi Arabia is still meeting its commitment even with the increase, other members are lagging and the disclosure intensified concern that the group won't be able to muster enough of the promised cuts to strengthen the market.
No Free Rides
Just last week, Saudi Energy Minister Khalid Al-Falih warned a Houston energy conference that the kingdom won't indefinitely "bear the burden of free riders," a veiled shot at Russia, Iraq and the United Arab Emirates, which have yet to deliver all the curbs they promised. At the same time, shale billionaire and Continental Resources Inc. founder Harold Hamm cautioned that unbridled drilling by shale explorers would crush prices and "kill" the oil market.
Prices are probably headed even lower in coming months, Warwick's Richard said. Explorers that own drilling rights in the richest zones of the most profitable shale plays will continue making big returns, prompting them to boost output even more, while weaker companies on the fringes of the best zones will falter, she said.
Falling Prices
West Texas Intermediate, the benchmark for U.S. crude, settled at $47.72 Tuesday on the New York Mercantile Exchange after earlier falling to as low as $47.09 a barrel, the lowest level since late November. The futures lost 9.7 percent of their value in the past week alone.
Hedging is how oil companies shield themselves from a potential market collapse. Risk management teams buy and sell derivatives such as options contracts that set a floor and ceiling on the price a company will receive for its oil. The banks on the other side of the trade get a fee and may record additional gains if the market moves in their favor. If the price drops, the oil company is protected.
Pioneer Natural Resources Co., one of the most prolific drillers in the Permian Basin beneath Texas and New Mexico, had 85 percent of its projected 2017 crude output hedged as of last month. Another 10 percent of estimated 2018 production also was protected, according to the Irving, Texas-based company. Pioneer's founder and Chairman Scott Sheffield predicted last week that crude will drop to $40 if OPEC and its allies don't extend their output cuts beyond June.
Well-Hedged
Parsley Energy Inc., an Austin, Texas-based explorer created by Sheffield's son, Bryan, as of last month had locked in prices for barrels that won't be pumped until 2019. Other well-hedged oil producers include Hamm's Continental, RSP Permian Inc. and Diamondback Energy Inc.
The number of rigs searching for crude in U.S. fields has nearly doubled to 617 since hitting a multi-year low in May. And while crude prices are up more than 80 percent since touching a 12-year low of $26.05 in February last year, prices haven't topped $55 since the first week of January.
The growth in the rig count is expected to taper off if oil prices don't climb above $55 a barrel around the end of this month, Andrew Cosgrove, an analyst at Bloomberg Intelligence, said in a phone interview. It would take oil dropping below $50 for a few months to bring about an actual reduction in the rig count, he said. In recent weeks, even prices above $45 were enough to encourage explorers to rent more rigs, he said.
Risk Minimized
No hint of a coming drop off in the rig count has been seen yet, thanks to explorers' hedging underpinned by two years of cost-cutting. A lot of the risk has been carved out of spending budgets, especially for U.S. drillers, James West, an analyst at Evercore ISI, wrote March 13 in a note to investors. So a 10% slide in the oil price n March won't have a commensurate impact on activity, he said.
Oilfield service companies benefiting from the increased work are focused on not losing their traction during the recovery, West said.
"The downturn has strengthened the resolve of service companies, and they are unfazed by modest, temporary moves in commodity prices," West wrote. "Balance sheets and cost structures have been completely overhauled to profit in a low commodity price environment."
Nabors Industries Ltd., the world's largest land-rig contractor, surveyed its customers working onshore in the U.S. just after the start of the year. Nearly 60 percent plan to add rigs between now and June 30, and none indicated a cutback, the company said late last month.
Some of the newest, most technologically advanced rigs available for rent from Nabors are commanding more than $20,000 a day, up from about $17,000 last year. In fact, rental prices for its rigs are moving up so strongly that Nabors is "actively trying not to contract too far in advance" so it can take the fullest advantage of rising prices, Anthony Petrello, chief executive officer at Nabors Industries Ltd, told analysts and investors Feb. 23 on a conference call.
Break Even
In the best areas of the Eagle Ford of South Texas, oil prices would have to fall considerably for exploration and production companies to lose money on their drilling. In LaSalle County, explorers break even when oil is $36 a barrel or higher, and in nearby Gonzales County, the price is $39, according to William Foiles, an analyst at Bloomberg Intelligence.
"Unless we see a full-scale collapse in prices, I don't think you're going to see a lot of E&Ps totally abandon their production forecasts and their activity commitments," Foiles said in a phone interview.
Recommended for you
X

Paul de Leeuw: Brexit impact on the oil and gas industry in the UK