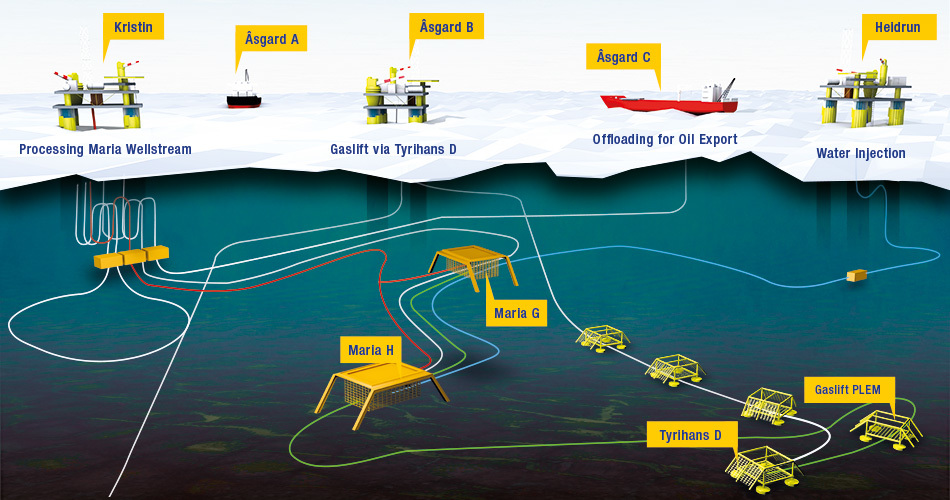 Wintershall today confirmed the start of drilling operations on its flagship Maria project.
The Deepsea Stavanger rig began drilling activity on the Norwegian Sea field, which Wintershall has a 50% stake in.
At the same time, two subsea templates are being tied back to the nearby Kristin, Heidrun and Asgard B platform, eliminating the need for a new platform.
The tiebacks are being integrated at depth of 300 metres.
"Intelligent solutions are the way to continue generation earnings in cost-intensive regions," Mr Mehren said.
Maria's expected to start production in 2018. It has an estimated reserves of 180 million barrels of oil equivalent (boe).
Maria will also serve to extend the lifespans of of the three tied-in platforms.
In recent years, Wintershall has upped its production on the Norwegian Continental Shelf from 3,000 boe to 80,000 boe.
In 2013, it did an asset swap with Statiol for stakes in the Brage, Gjoa and Vega fields. Wintershall also assumed its first operatorship with the Brage field.
In March 2015, Statoil transferred operatorship of Vega to Wintershall.
Wintershall has since acquired shares in the Aasta Hansteen development (24%), the Asterix discovery (19%) and the Polarled pipeline project (13.3%).
It also snapped four exploration licences in the Voring Basing near Aasta Hansteen.
The reserves for those assets total 170 million boe.
In December last year, it started production on its Ivar Aasen field.
Alongside Knarr and Edvard Grieg, Ivar Aasen is the third development Wintershall has taken into production since 2015.
Maria is expected to be followed by Skarfjell, which has yet to have a final investment decision.
Finally, Wintershall was awarded five new exploration licences in Norway – two of which is operator of.
The licences sit it the operator's core targets – Norwegian North Sea near the Aasta Hansteen development and the Norwegian SEa.
Recommended for you

Who won what? Norway dishes out 53 licences in oil and gas exploration round