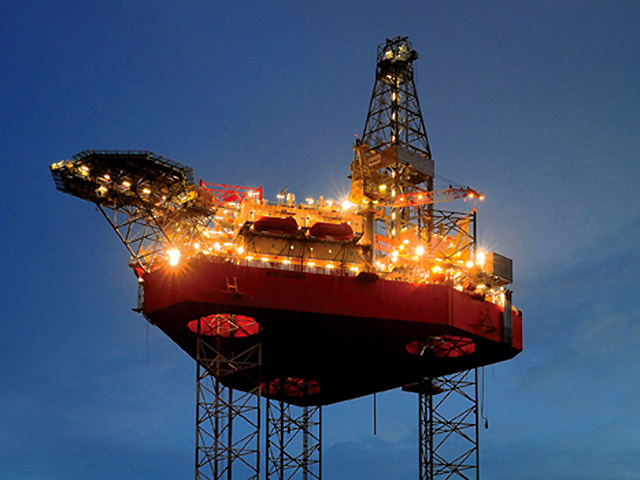 Seadrill, once the crown jewel of billionaire John Fredriksen's business empire, is at the mercy of short-term speculators as the biggest funds shun the offshore driller amid a struggle to avoid bankruptcy.
"It's trading at option value and day traders are the ones pushing the price up and down," Anders Bergland, an analyst at Clarksons Platou Securities AS, said Tuesday, right after the company again warned shareholders and bond investors they were facing steep losses in any restructuring deal. "There are no funds buying this right now, it's trading."
Seadrill fell as much as 29 percent on Wednesday after closing 38 percent down the day before, already at a record low. The stock traded 25 percent lower at 6.51 kroner as of 12:47 p.m. in Oslo.
The company has been working on a restructuring of the offshore-drilling industry's biggest debt load for more than a year. With net interest-bearing debt of $8.9 billion at the end of 2016, Seadrill has been particularly exposed as oil companies slashed spending following the collapse of crude prices in 2014.
"Train Wreck"
The risks of equity dilution and bankruptcy had been voiced by the company earlier and should in any case have been "obvious," said Alex Brooks, an analyst in London at Canaccord Genuity Group Inc. who stopped covering Seadrill last month after following the stock on and off for nearly eight years.
"We seem to see this over and over again: shareholders are willing to trade stocks on hope value right up until the moment the train wreck becomes obvious," he said in an email. "It's astonishing, and probably reflects rather badly on people like me who are unable to get our message out."
Seadrill has lost 97 percent of its value since the middle of 2014, contributing to a more than 40 percent drop in Fredriksen's net worth, which is currently estimated by the Bloomberg Billionaire Index at about $9.7 billion.
The biggest sellers of the shares last year included Barclays Plc, JPMorgan Chase & Co., Goldman Sachs Group Inc. and Deutsche Bank AG, according to data compiled by Bloomberg.
The company said on Tuesday it got further extensions on bank loans totaling $2.9 billion, allowing it to again postpone the deadline for a restructuring deal by three months to the end of July. Warning shareholders they faced "minimal recovery" of their positions, Seadrill said a comprehensive agreement with creditors would "likely involve schemes of arrangement or chapter 11 proceedings," eventualities that had previously been mentioned by the company in case a deal was not reached.
Fredriksen, a Norwegian-born Cypriot who acts as Seadrill's chairman and owns about 24 percent of the company, said last week the company was getting closer to a restructuring agreement, though it was a "big job." He repeated that in an interview with Dagens Naeringsliv on Tuesday, adding Chapter 11 bankruptcy protection was only one option among others and that how much capital he puts into the company will depend on the solution.