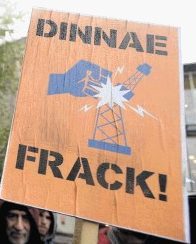 A High Court ruling against campaigners fighting a UK Government decision to approve a fracking site in Lancashire may be the "tipping point" for the future of the industry in the UK.
The Preston New Road Action Group (PNRAG) and campaigner Gayzer Frackman had urged a judge to find that the decision to grant a planning application for the site in Fylde was not fair or lawful.
But Mr Justice Dove, announcing his decision at the High Court in London on Wednesday, dismissed their judicial review actions.
Richard Power, partner at international law firm Clyde & Co said: "It's an important ruling for the UK energy market and may prove the tipping point for fracking in the UK.
"With the phasing out of coal and nuclear reactors, the country could face an energy shortage in coming years. Given the very slow lead-in times for new nuclear, and the fact that that renewables currently produce electricity intermittently, fracking could prove a viable solution.
"Shale gas provides a relatively low carbon-producing energy source and so it may be a good interim source for power generation pending the development and deployment of more efficient renewable sources of energy."
"However, the Government should not put all its eggs in one basket. Fracking cannot be the only solution to the UK's energy problems, so it's vital that the government continues to support the renewables industry as well."
At a hearing at Manchester Civil Justice Centre last month, the judge was told that the planning application by developer Cuadrilla was refused by Lancashire County Council in 2015, but later granted following an appeal and a planning inquiry.
Read more about it here.