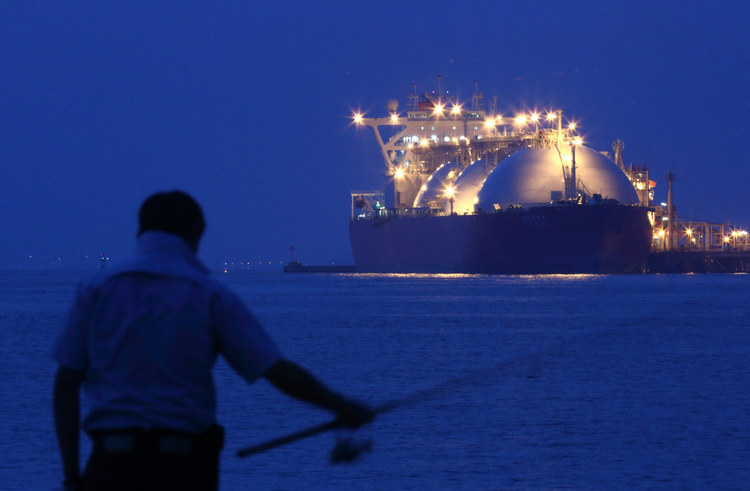 America's shale gas could soon head to China under long-term contracts for the first time, bolstered by a new trade deal that may not even change existing rules.
Cheniere Energy Inc., the first exporter of natural gas from the lower 48 states, sees the agreement as "amplifying and accelerating conversations about new long-term contracts" with China, said Eben Burnham-Snyder, a spokesman for the Houston-based company. While the deal announced Thursday by President Donald Trump's administration doesn't appear to alter access for Chinese companies to U.S. gas cargoes, it welcomes China to receive shipments and engage in long-term contracts with American suppliers.
Fifteen months after Cheniere shipped its first cargo of shale gas, putting the U.S. on course to become a net exporter of the fuel by next year, the agreement between the world's two largest economies may unleash even more American supply on a glutted global market. The deal could pave the way for a second wave of investment in U.S. LNG terminals, connecting the fastest-growing supplier with the biggest growth market, according to Wood Mackenzie Ltd.
"In the last month, Cheniere has had extensive negotiations with several Chinese commercial entities and obviously with this agreement we expect this to continue and accelerate," Burnham-Snyder said in phone Friday.
While Cheniere shipped nine cargoes from its Sabine Pass facility in Louisiana to five terminals in China over the last year, according to Burnham-Snyder, those cargoes were sold on the so-called spot market for immediate delivery, rather than under long-term contracts.
The agreement clarifies, rather than changes, U.S. policy on LNG exports to China, Zach Allen, president of Pan Eurasian Enterprises Inc., a Raleigh, North Carolina-based tracker of LNG shipments, said in an email.
"It sounds like a re-iteration of pre-existing conditions," Allen said. "I was not aware of any unusual barriers to U.S. LNG exports to China imposed by U.S. restrictions."
Targeting China
U.S. LNG export terminal developers will now be able to target Chinese buyers directly, potentially helping the projects to secure financing, Massimo Di-Odoardo, an analyst at Wood Mackenzie, said in a note to clients Friday. The deal could also support direct Chinese investment in the terminals, he said.
NextDecade LLC, which is developing an LNG project near Brownsville, Texas, welcomes the agreement, Rene van Vliet, chief operating officer, said by phone Friday. China is slated to become a prime LNG importer as it shifts from coal generation to cleaner energy. At the same time, the contracts with LNG exporters that China signed in the early 2000s are about to expire and the country will be looking to replace those with the "most competitive LNG in the market," Vliet said.
"There was a meeting of minds at the highest government levels that LNG could play a very important role," he said. "We see ourselves as the leader of that second wave" of U.S. LNG export projects.
The China agreement is "certainly a positive statement from the Trump administration about the LNG industry," Scott Atha, director of LNG marketing and commercial strategy for North American projects at Liquefied Natural Gas Ltd., said by phone. The company is developing the Magnolia LNG export terminal in Louisiana. "It provides us additional confidence that the Chinese market can be open to U.S. projects."
Does the U.S.-China agreement on LNG exports mean anything?
American supplies accounted for almost 7 percent of China's total imports in March, customs data shows. Chinese companies already have long-term contracts with non-U.S. suppliers for more LNG than domestic demand requires through at least 2023, according to Bloomberg New Energy Finance.
Cheniere rose 3.3 percent to $48.68 Friday in New York. Meanwhile, LNG exporter Tellurian Inc. fell 3.7 percent to $11.08.
Recommended for you

ExxonMobil's P'nyang deal bullish for PNG's LNG export growth