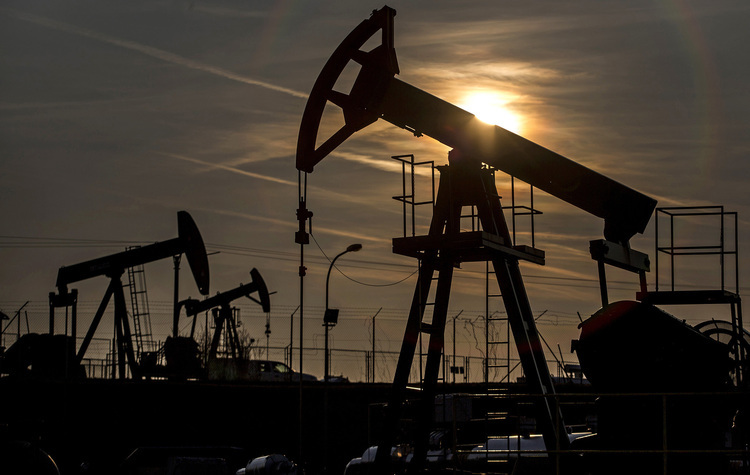 The good news from OPEC wasn't good enough.
Hedge funds trimmed bets on rising crude prices to the lowest level since November as oil futures dipped below $50 a barrel amid skepticism an OPEC-led campaign to cut output will soon curb a worldwide supply glut. Speculators fled bearish positions for a second week.
During the reporting period, the Organization of Petroleum Exporting Countries and its partners extended their existing cuts by nine months. Traders rooting for deeper or longer cuts were disappointed, and prices suffered their steepest weekly drop in a month.
"The market wants to see it before it believes it," said Mike Wittner, head of commodities research at Societe Generale SA in New York.
Money managers shaved short positions in West Texas Intermediate futures and options by 13 percent and long positions by 0.9 percent in the week ended May 30, according to U.S. Commodity Futures Trading Commission data. Hedge funds increased their WTI net-long position, or the difference between bets on a price increase and wagers on a drop, to 206,103 contracts.
Crude futures, which ended last week below $48, may dip as low as $45 before spurring new buying, said Bill O'Grady, chief market strategist at Confluence Investment Management in Webster Groves, Missouri.
The decline comes as U.S. shale producers are on pace to lift output to 10 million barrels a day by the end of this year, according to Rystad Energy, a Norway-based industry consulting firm. That's a level not seen in almost half a century.
WTI for July delivery rose 68 cents to $48.34 a barrel on the New York Mercantile Exchange at 1:23 p.m. Singapore time. Prices dropped by 4.3 percent last week, the most since May 5.
For most of the past seven months, crude has largely traded between $55 and $45, and probably will drift down toward the bottom end before rebounding, according to O'Grady.
"As a result, I suspect that in three or four weeks we'll be talking about prices heading higher," he said.
Posing a Challenge
U.S. shale drillers pose a challenge to the OPEC-Russia agreement because they can fill the supply shortfall by the middle of next year, Rosneft Oil Co. PJSC Chief Executive Officer Igor Sechin said at the St. Petersburg International Economic Forum. Sechin, a close ally of President Vladimir Putin, expects shale oil output to increase by about 1.5 million barrels a day in 2018, close to the entire cut targeted by OPEC and its allies.
Russian Energy Minister Alexander Novak, a key negotiator in the OPEC deal, said in an interview with Bloomberg television in St. Petersburg that without last month's extension of the accord, international crude prices would have plunged. He also disputed notions that shale will neutralize the cuts.
"If we hadn't extended the deal, I believe we would have seen the price fall not 8 percent, which you mentioned, but probably 50 percent," Novak said. Production growth in other countries won't undermine the agreement or its targets, according to Novak, who predicted the price range will increase to $50 to $60 as demand grows and inventories fall.
While the nine-month extension of the output caps was "optimal," participants have the tools to extend or shorten the agreement if necessary, Novak said. "Our task is not the price, our task is to remove the inventory surplus."
Recommended for you

Whispers of $100 oil return as crude shakes off Covid's clasp