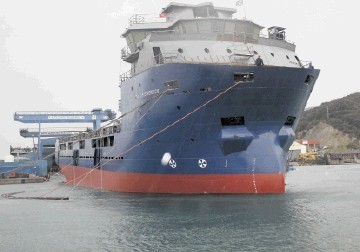 Ship owning company Ocean Yield has agreed a deal to buy two Platform Supply Vessels.
The company purchased the ships from BP Shipping for a total of $105.4 million.
Ocean Yield's chief executive Lars Solbakken said: "We are pleased to announce the investment in two additional vessels on long term charter, as it allows us to continue to grow and further diversify our portfolio, adding a strong counterparty with a market capitalization of approximately $5.4 billion."
The two ships 'NS Orla' and 'NS Frayja' are on long term charters with Aker BP, having started 15 year charter agreements on delivery in 2014.
According to Ocean Yield, the bareboat charter rates are $17,253 per day per vessel, which gives a contribution to annual EBITDA of $12.6 million.
The vessels will be delivered to a fully owned subsidiary of Ocean Yield this month.
The purchase has been financed by a combination of debt and equity and Ocean Yield has received an offer for a senior secured loan facility of up to $65 million with semi-annual instalments.