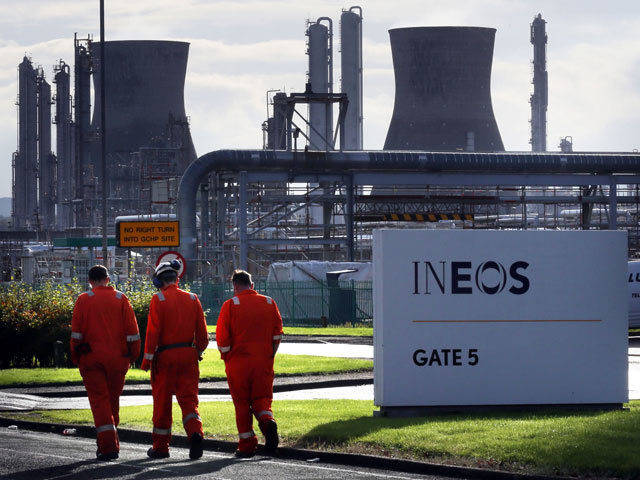 Community opposition to fracking has softened because of concerns linked to Brexit, according to an Ineos director.
Tom Pickering, operations director at the firm's shale unit, said unease about the UK's energy security once Britain leaves the 27-nation bloc was casting the nascent industry in a more positive light.
While opposition and anxiety remain, he said the change in perspective following the Brexit vote had tightened the focus on the economic benefits of fracking.
Mr Pickering has been holding public meetings to allay fears about the industry after the company snapped up shale gas licences across swathes of Yorkshire, the East Midlands and Cheshire.
Ineos Shale is investing one billion US dollars (£779 million) into shale gas exploration in the hope of starting extraction in two years' time.
Speaking to the Press Association, Mr Pickering said: "I have seen a shift in the tone after the Brexit vote. People are saying that 'you just need to be getting on with this. We want you to do it properly, but this stuff matters now'.
"People understand that when you present the figure to them that over 50% of our gas is being imported, that is a cheque we are writing out every day to another nation.
"I find that is a theme in the conversation."
Ineos Shale – an arm of the 40 billion US dollar (£31 billion) petrochemical company Ineos – has launched a vast study to discover if Britain can establish a viable shale gas industry.
A 3D seismic survey mapping the geology of potential sites is expected to be finished this year.
The firm is also looking to pinpoint suitable areas for fracking by submitting 11 planning applications for core drilling across all English licences by the end of 2017.
Mr Pickering said the UK has the opportunity to create a level of excellence in onshore fracking that will lead to a demand for British skills across the globe – in the same way the North Sea oil boom made Aberdeen a centre for expertise.
He said: "We have the opportunity to take the leadership, do it properly, understand the things that occurred in the US, make sure the design elements prevent spillage, and deliver it correctly.
"Having done that, you have done what was achieved within the energy industry in Aberdeen and Great Yarmouth, you have created a skill base that goes off to Africa, goes off around Europe and around the Middle East."
It comes after Ineos Shale secured a High Court injunction last month prohibiting unlawful activities such as trespass or obstruction at its shale gas sites.
A number of protest groups have been launched to fight fracking, while well-established organisations such as Greenpeace and Friends of the Earth also campaign against the technique.
Mr Pickering said the move was not an attempt to quash peaceful protest, but was taken to ensure the safety of staff and protesters.
He said: "I have a duty of care to the employees, contractors and public at large that is in the health and safety act as written words to ensure and protect their safety and that includes a protester.
"As I plan for my operations, I can see all the unlawful protest that has happened. Real extreme and dangerous protest. Lorry surfing, releasing loads, blocking up a high way – all of these types of things, which are criminal acts anyway.
"But I think it had not been addressed with a very clear line of what is acceptable and what is not.
"What I want to be clear on is that we constantly respect peaceful protest. Nothing about Ineos Shale is going to stop listening to people and engaging with people."
Recommended for you
X

Catastrophic floods strike Houston as thousands flee homes