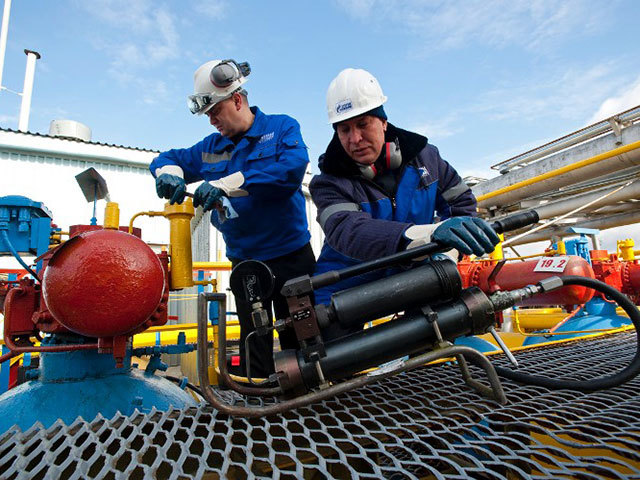 Russian oil giant Gazprom has replaced ExxonMobil at the summit of S&P Global Platts' top 250 global energy company rankings.
US major ExxonMobil had held top spot for the last 12 years, but has dropped down to ninth position.
The league table, in its 16th year, ranks companies based on financial performance using four key metrics: asset worth, revenues, profits, and return on invested capital.
All companies on the list have assets greater than $5.5 billion.
Among this year's biggest movers were Germany's E.ON, which climbed 112 places to second spot. British utility Centrica is now 15th, up from 156th.
India's Reliance Industries rose to 3rd place from last year's 8th while France's Total climbed two slots to 10th, returning to the top 10 after a two-year absence.
S&P Global Platts said Reliance and Total had demonstrated the power of pipelines.
Both firms have been making investments in the US that benefit from increasing supplies of natural gas and the new pipeline infrastructure that is being built to carry those resources to the Gulf Coast for regional use and for exports to overseas hubs.
Harry Weber, senior natural gas writer of S&P Global Platts, said: "European utilities and North American pipeline operators got a boost from sticking to what they know best and shying away from more risky enterprises and territories.
"Regulated utilities, in particular, have an advantage because their revenues are largely defined and consistent, and are not as susceptible to swings in oil and gas prices."
S&P Global Platts is a provider of information and benchmark prices for the commodities and energy markets.
TOP 10 OF 2017 S&P GLOBAL PLATTS TOP 250 GLOBAL ENERGY COMPANY RANKINGS
2017 Rank
 COMPANY NAME
2016 Rank
1
PJSC Gazprom (Russia)
3
2
E.ON SE (Germany)
114
3
Reliance Industries Ltd. (India)
8
4
Korea Electric Power Corp. (South Korea)
2
5
China Petroleum & Chemical Corp.  (China)
13
6
PJSC LUKOIL  (Russia)
6
7
Indian Oil Corp. Ltd. (India)
14
8
Valero Energy Corp. (Texas)
5
9
ExxonMobil Corp. (Texas)
1
10
TOTAL SA (France)
12
Recommended for you

Exxon looks for long-term rig duo off Nigeria