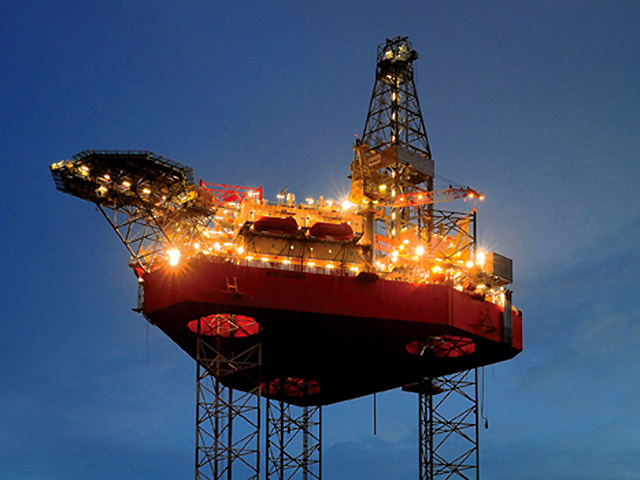 The offshore drilling market will take a long time to rebalance as more consolidation and rig retirements are needed to cut oversupply, according to DNB ASA, Norway's biggest bank.
While the market has probably reached bottom, the question is how long it will stay there, Kristin Holth, DNB's head of global ocean industries, said in a phone interview on Monday. The recovery "could still be far off," she said, without providing an estimate.
"Even if there is increased demand — which we're seeing — there's a significant overhang of units," Holth said. "So it will be long before we reach a balance."
Offshore drilling fell into the worst slump in a generation when oil prices collapsed in 2014, reducing demand for rigs just as a wave of new units was rolling out of the shipyards. While executives and analysts said at a recent conference in Oslo that there were signs of a nascent recovery, especially in harsh-environment drilling and shallower waters, many noted that rig rates will take longer to recover because of persistent oversupply.
Both taking rigs out of the market and industry consolidation will be key factors determining the speed and timing of the recovery, Holth said. More deals are expected to follow Ensco Plc's agreement to buy Atwood Oceanics Inc. and Transocean Ltd.'s acquisition of Songa Offshore, she said.
Seadrill Woes
The downturn has put pressure on rig owners, and especially the most indebted ones, such as billionaire John Fredriksen's Seadrill Ltd. The company filed for bankruptcy protection in the U.S. this month after securing support from almost all its banks, including DNB, for a restructuring plan. That plan will see Fredriksen take the lead in contributing more than $1 billion in new capital, while credit facilities are extended by about five years.
Fredriksen's investment company, Hemen Holding Ltd., which owns about 23 percent of Seadrill, was at first reluctant to be the lead participant in the new capital raising, according to a disclosure statement filed this month. But Fredriksen's involvement was a condition for the banks, as well as for third-party investors, according to the filing.
"Overall it's a good solution — not least because we have the main shareholder's contribution, which is a significant contribution of capital, and because the main shareholder stays on," said Holth. "It was an absolutely central element."
Holth, who said DNB has a "good relationship" with Hemen, declined to "speculate" on the potential impact of a group of bondholders, who have hired legal and financial advisers to oppose the plan presented by Seadrill.
Recommended for you

Offshore rig day rates could surge to $500,000