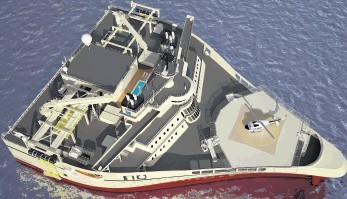 Oslo based seismic surveyors Petroleum Geo-Services (PGS) is planning a $40 to $50million restructuring that will see its fleet of vessels cut by six.
The company announced today that it was taking steps towards a "new centralized, simplified and streamlined organization".
PGS said that over the last year the fundamentals in the seismic industry "have changed significantly".
The company said in a statement: "The market is smaller, weaker and more uncertain than before, and the MultiClient share of acquisition has increased considerably.
"At the same time the world has become more digital and clients have centralized their decision making process. The new PGS organization addresses these changes."
The company went on to say that it intends to reduce its operational fleet to eight vessels, two of which will be used "selectively to address demand swings and market seasonality".
This "flexible" capacity will be managed and crewed by a combination of regular and temporary employees.
Rune Olav Pedersen, president and chief executive of PGS, said: "This downturn has been longer and lower than anyone anticipated.
"We think the worst is behind us, but I cannot bet the Company on a market recovery.
"We need to change what we can control ourselves. The reorganization, combined with more flexible vessel capacity makes us better positioned to address the current market environment and improve cash flow and profitability."
PGS said it forecasts that the restructuring will result in cost reductions of "at least" $100million in 2018.
The executive management team will also be reduced from six people to four.
Internal departments will also be reorganised.
The company plans to implement the new structure by year-end 2017.
Recommended for you

BP hands out southern North Sea CCS contract