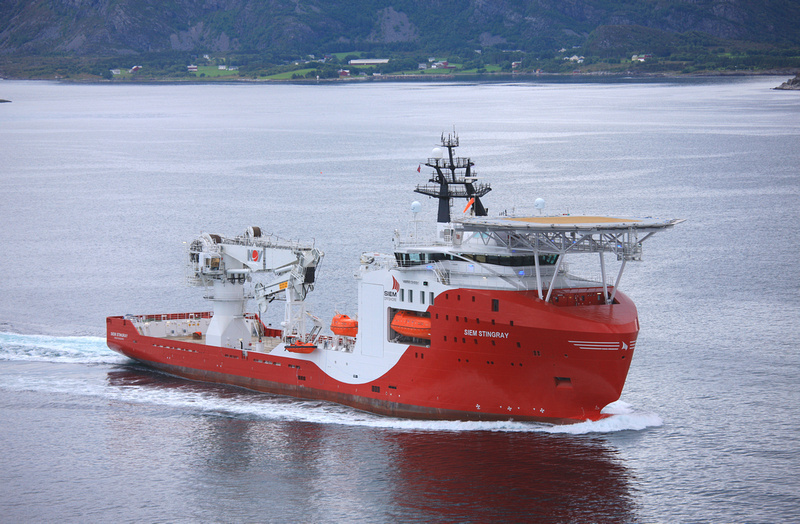 Swire Seabed has signed a three year bareboat charter with Siem Offshore for the LCV Siem Stingray.
The vessel, which will be re-named Seabed Stingray, is an Inspection, Maintenance and Repair (IMR), Construction and Survey vessel of the VARD design.
She is 120.90 metres in length with a deck space of 1350 m² and is equipped with a 250 tonne offshore crane.
She will also have two heavy duty work class remotely operated underwater vehicle (ROV).
The contract will see Swire Seabed operate the vessel in the IMR, Construction Support and Renewable sectors, with a particular focus on North European and West African markets.
Siem Stingray was formerly working in the GoM for Subsea 7, executing the BP IMR & Light Construction Frame Agreement.
With Seabed Stingray joining the fleet in 2018 and the purchase of Seabed Constructor in early 2017, Swire Seabed has taken on two modern, high capacity LCVs to use as platforms for delivering complex subsea projects.
"While the market environment remains challenging, Swire Seabed continues to invest in new technology, assets, and is increasing capacity in engineering, survey and project execution. This bareboat charter increases the scale and flexibility of Swire Seabed's fleet, and expresses our confidence in the quality of our service portfolio and the resilience of our clients in the subsea industry," says CEO, Swire Seabed, Arvid Pettersen.
Swire Seabed's other subsea vessels are Seabed Worker, Seabed Supporter and Seabed Constructor.