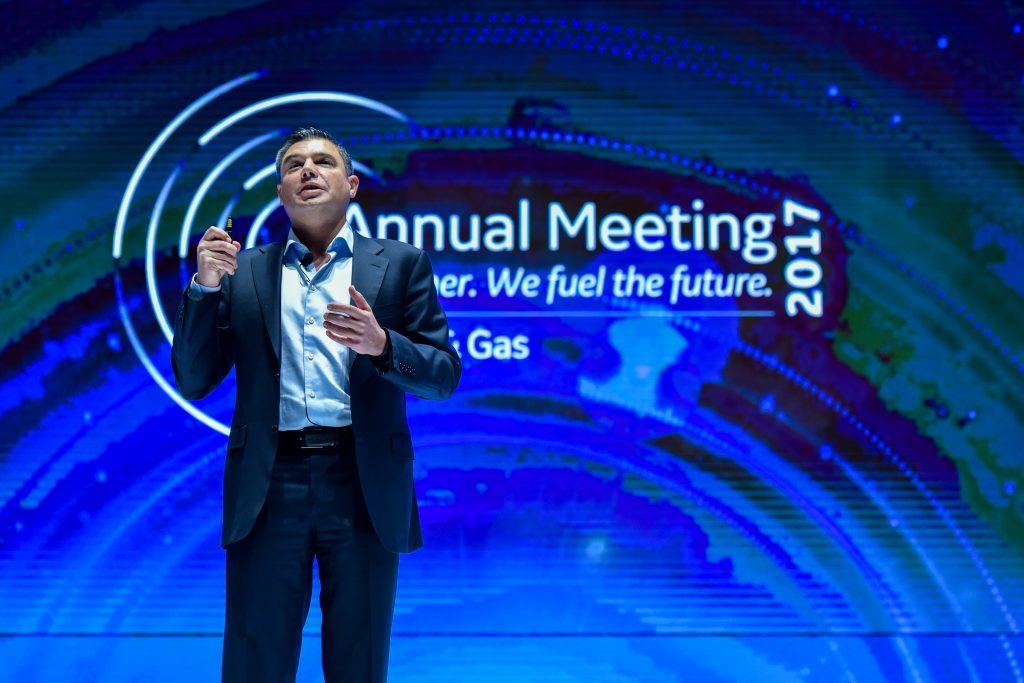 When your mentor is business veteran and heavyweight Jeff Immelt, one can expect glittering gems of wisdom carved out of a hard-fought, hard-won career.
So when Lorenzo Simonelli took up the reigns of president and chief executive of the newly formed Baker Hughes a GE company (BHGE), Mr Immelt didn't disappoint.
In fact, it was the same five words he had been challenging Mr Simonelli, GE's rising star, with the breadth of his career and they all start with the same letter. For Mr Immelt, and now Mr Simonelli, one of the most effective business practices is to ask 'Why' five times in a row, challenging each solution to drill down to the core of its function.
"I have been fortunate that Jeff has been a key mentor, support and adviser throughout my career," Mr Simonelli said.
"He has always had good advice in regards to navigating troubled waters, making sure you stay on the look-out, looking around corners.
"Drill down through the five 'whys', challenge yourself and the team around you and remain optimistic when everyone else around you is pessimistic.
"He is one of the biggest supporters of this transaction. He was spearheading it through."
The breakthrough deal, which was made with $60 oil in 2019 in mind, created a company with $23billion in annual revenue. Cost synergies are expected to total $1.6billion by 2020. Despite taking a hit in its third quarter due to restructuring costs, Simonelli is more convinced than ever of the deal.
"When you look at Baker Hughes, they were a recognised, capable and very technology centre oilfield services company. They had a very historical brand with a long legacy. If you looked at GE Oil and Gas, we were an equipment and services provider, predominately focused on large-scale equipment within the LNG space, subsea space, and also the downstream, refinery and petro-chemical area," he said.
"When you look at the aspect of overlap between the two companies, it was minimal. When you combined the two entities in the merger, we were able to create a wing-to-wing view of how to enable, from the identification of the reservoir all the way to a purified product, a value chain within the company.
"We are the first full-stream company in the world. There is nobody else who can provide the breadth and depth in terms of capability within services, equipment and technology. Linkage to financing capability with GE store."
With Baker Hughes' drilling capablity and GE's access to finance and its GE Store, Mr Simonelli insists the new proposition is "formidable".
"We are a formidable new player within the energy industry," he said.
But the new set-up has to weather the same headwinds together as they faced apart. And the effects of the downturn have yet to blow over.
"The downturn has been tough," Mr Simonelli said.
"I don't know if I'm fortunate or just unlucky, but I've been through downturns before in other industries and also went through the financial crisis of 2009 to 2011. For me it's about prioritising what's important and staying optimistic about the future. Pick the areas which are going to grow and make sure the team around you is motivated to win.
"It has been a huge energy boost for the both companies to come together in this merger.
"It's been a stimulus of enthusiasm and energy really to continue to ride out what is a challenging industry backdrop, where there is lower spending taking place, fewer projects taking place. Things are being pushed out and customers are demanding more productivity.
"We now have an opportunity really to drive what's important the customer – productivity, cost per barrel, being able to increase production. So we feel very optimistic and positive about what have achieved, but it's also a work in progress."
Simonelli's introduction to the industry was GE's introduction to the industry. The two grew-up in the sector together.
A company known for power and aviation, the firm was attracted to "another key industry that helps in the growth of nations".
"Early in my career I was exposed to the industry and I was enthralled by it and saw its relevance to humanity in regards what it was enabling to be produced and used," Mr Simonelli said.
"I always had a desire to come back and run the business."
Now the company leader is looking toward GE's more mature family of sectors to inspire a way forward for oil and gas, including following aviation's lead in using a 3D printer to create engine parts.
"The industry has been very innovative when it comes to new ways of extracting the resource," he said.
"When you think of unconventional shale and think of the oil and gas it has unleashed it's huge.
"I think the industry has done a great job of coming up with those types of solutions and being entrepreneurial.
"Where the industry needs to continue to evolve and challenge itself is taking best practices from other industries and transition them in faster. When you think about the power industry, they've gone through a complete change in how it's set-up. They have adopted a much more standardised approach.
"I think it's made them a healthier industry. What we have got to do in oil and gas is stay open to ideas from others. 3D printing – how long will it take before we accept 3D printing? How do you get through the requirements? There are components we can make with printed and metallic material today. How do we take Big Data and apply it in a homogeneous way across the industry and start to share among each other?
"That's what we've got to do if we want this recovery to be different."
All of this plays into becoming a "conscious disrupter" or catalyst for change.
"We are in early beginnings of this," Simonelli said.
"The term conscious disrupter is beneficial, because we have to know what we're getting ourselves into. This industry takes safety very seriously and we need to remain safe going forward.
"What disruption means how do you create organised chaos? And that means being able to look at things differently.
"Don't accept the traditional old, stick build. We need to go toward an outcome-based modular and outcome-based results."
The company boss is using this method to target the North Sea decommissioning industry.
BHGE has lined-up 60 master service agreements and is targeting a 30% reduction in cost savings.
The set-up is in line with the sector's reinvention, according to Mr Simonelli – a reinvention which must be driven by the service sector.
"I think the service industry is looking to make sure we don't suffer again a huge downturn as we go forward. This downturn has been challenging for all of us in the industry," he said.
"Look at the workforce, which has been shed. What's happens when that workforce is needed again? How do you ensure retention of employees? Unless we become a fitter industry and have less of these ups and downs, we will have the perennial challenge of recruiting and training talent."
The North Sea has an equally important to play in that, Mr Simonelli said: "We think the North Sea is still needed when it comes to the major fields in the global basin. We do think it will be more around enhanced recovery rates and brownfields. It's about taking stock of what's there, being able to maximise and then improve on it from brownfield opportunities."
Finally, Mr Simonelli reminisces on the time his mentor, Mr Immelt, told a packed house at GE's annual conference that whatever Mr Simonelli did in the downturn, he better not tell his boss the oil price. Post Mr Immelt's retirement does Simonelli allow himself a peak?
He said: "It's hard to avoid it, but am I focused on it all the time where I need to see it? No. We have to become less sensitive to the price and more focused on the activity levels that are out there and we can drive those by focusing on productivity."
Recommended for you
X

Mother of 2009 crash victim backs calls for North Sea helicopter inquiry