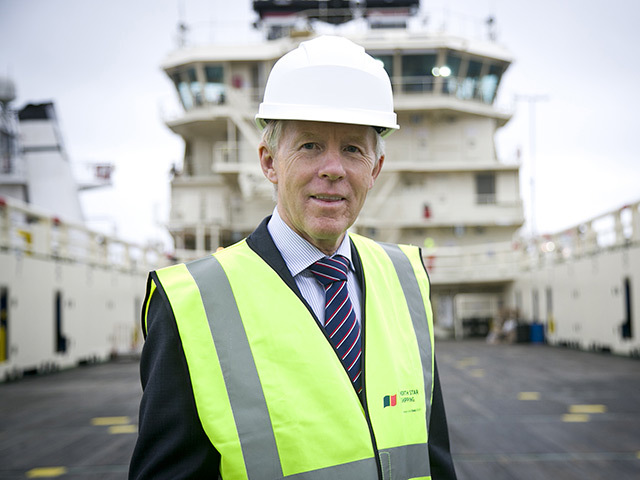 Family-owned Craig Group, of Aberdeen, has sold its core North Star Shipping business to international investors in a move described as "restructuring for a new era".
The sum paid by Basalt Infrastructure Partners for North Star, which has more than 850 contracted seagoing staff on its books, was undisclosed.
North Star provides essential emergency response and rescue services to the offshore industry in  the UK North Sea.
It currently owns and manages 31 ships supported by a fleet of about 50 fast rescue and 35 daughter vessels.
The existing senior management team, staff and crew will remain with North Star under the new owners.
Craig Group chairman Douglas Craig, the company's biggest shareholder, said: "This opportunity arose to secure the long-term future of North Star Shipping, its staff and crew, through greater potential for further investment and growth.
"Given our rich maritime heritage, it's not a decision we have taken lightly, but it is one which makes sense for the Craig family and for the next era of North Star."
North Star accounted for nearly 60% of Craig Group turnover during the year to April 30, 2016.
It continues to own and manage global oilfield procurement business Craig International, a golf retail outlet and the Kings Links golf driving range.
Last December, Craig Group said a slump in pre-tax profits and turnover – down by 42% to £10.6million and 11.5% to £163.9million respectively – reflected challenging conditions in 2015/16.
North Star's turnover slumped by 9% to £94.4million.
Basalt, which has offices in London and New York, used financing from Bank of Scotland to support its latest investment.
Steven Lowry, Partner of Basalt Infrastructure Partners LLP, advisor to Basalt, said: "North Star is a highly attractive investment opportunity in a UK regulated sector.
"The transaction provides a proven management team that has built a stable business, with strong growth potential and providing sector diversification for Basalt."
North Star managing director Callum Bruce said: "We are very excited to be partnering with Basalt for the long term.
"Their investment coupled with our market-leading position and sector knowledge provides a strong platform for future, sustainable growth and diversification of the company."
He added: "The senior management team, staff and crew at North Star will remain with the business and this transaction will not impact on our day-to-day operations."
Mike Beveridge, managing director of Simmons & Co, which acted for Craig Group, said North Star and its modern fleet were "a great operating platform" for Basalt to build on with further investment and through diversification and internationalisation.
"The deal is another positive statement of renewed and long-term confidence in the UKCS (UK continental shelf)," Mr Beveridge added.