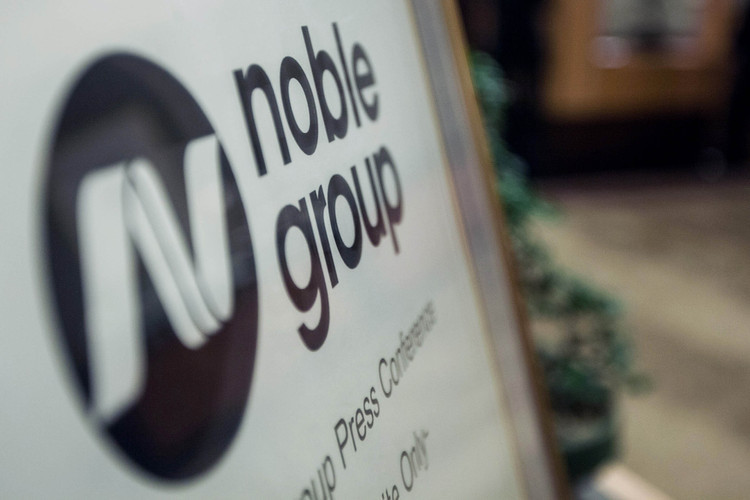 For more than two years, the story of whether Noble Group Ltd. will survive or implode has gripped the global commodities industry. The next chapter gets written on Thursday as the Hong Kong-based trader reports quarterly results after the close of trade in Asia.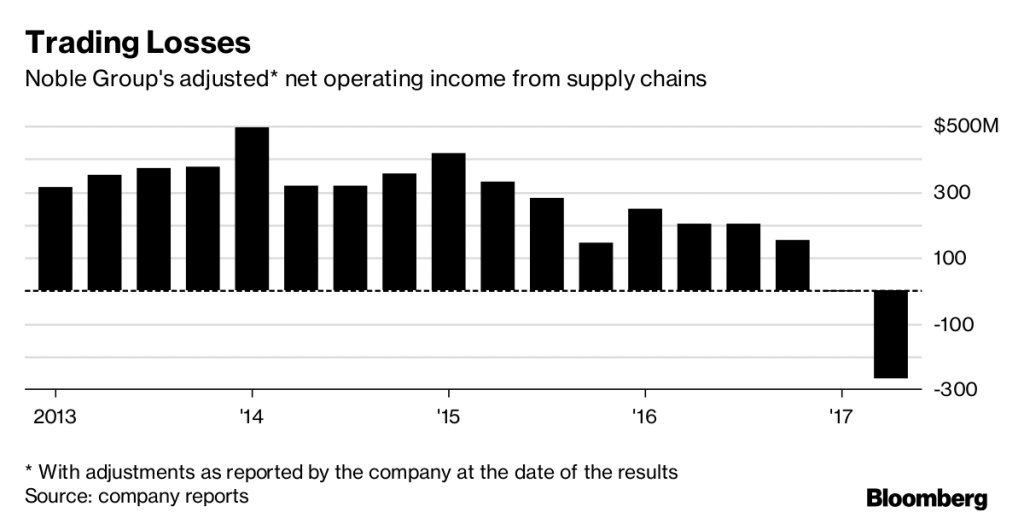 Another vast loss has been flagged after a profit-warning last month, with Noble Group guiding a range of $1.1 billion to $1.25 billion. At the same time, the company founded decades ago by Richard Elman struck a deal to downsize drastically by offloading its prized oil-trading unit to Vitol Group.
While that's known, there will still be intense interest in the fine print, as well as executives' remarks, from a company that carries billions of dollars in obligations to banks and bondholders, and is widely expected to embark on a restructuring. As its shares languish near 17-year lows after an 84 percent slump this year, and with its bonds trading in distressed territory, here are some of the many items due for scrutiny:
Liquidity Headroom
Noble Group's liquidity headroom gives an indication of how much spare capital it has available to fund its business. The figure stood at $1.4 billion at the end of June following the repayment of a $650 million term loan and cancellation of a $565 million revolving credit facility upon its maturity in May 2017.
Cash Available
Noble Group's usable cash — that's total cash and cash equivalents less the amount restricted with brokers — plunged in the second quarter. At that time, the company said it faced significant credit constraints, which impacted trading and capacity to generate earnings, as it grappled with the loss of confidence from its lenders, suppliers, customers and counterparties.
Net Debt
Even with the sale to Vitol and an earlier gas-unit disposal, which should help pay down two facilities, the trader still faces a battle to service more than $3 billion of debt. BNP Paribas SA, Nomura Holdings Inc., and JPMorgan Chase & Co. have all predicted Noble Group will be forced to restructure its debt.
Supply Chain Income
Apart from an alumina refinery in Jamaica and some assets in Mexico, Noble Group's now left with a largely Asian portfolio as a trader of coal, iron and freight. While Chairman Paul Brough has promised further disposals, there's doubt the rump business can ever manage to service debt obligations and engineer a turnaround. For the third quarter, Noble Group has said it expects a net loss from continuing operations of $50 million to $100 million.
How Much?
The management is likely to field queries on the complex sale of Noble Americas Corp. to Vitol given sums parked in escrow and myriad clauses that need to be worked out. In the October announcement about the disposal, the company lumped the proceeds from that sale with the earlier gas-and-power unit disposal for an estimated total consideration of $582 million.
Off the Job
At its peak Noble Group employed 15,000 people. In the spiral lower, it's slashed staffing as it shrinks to survive. Senior departures in recent months included the treasurer, head of market risk, and head of Asia treasury and trade finance. The company has said that after the oil-unit sale, headcount is expected to drop to about 400 from 1,050 at the start of the year.