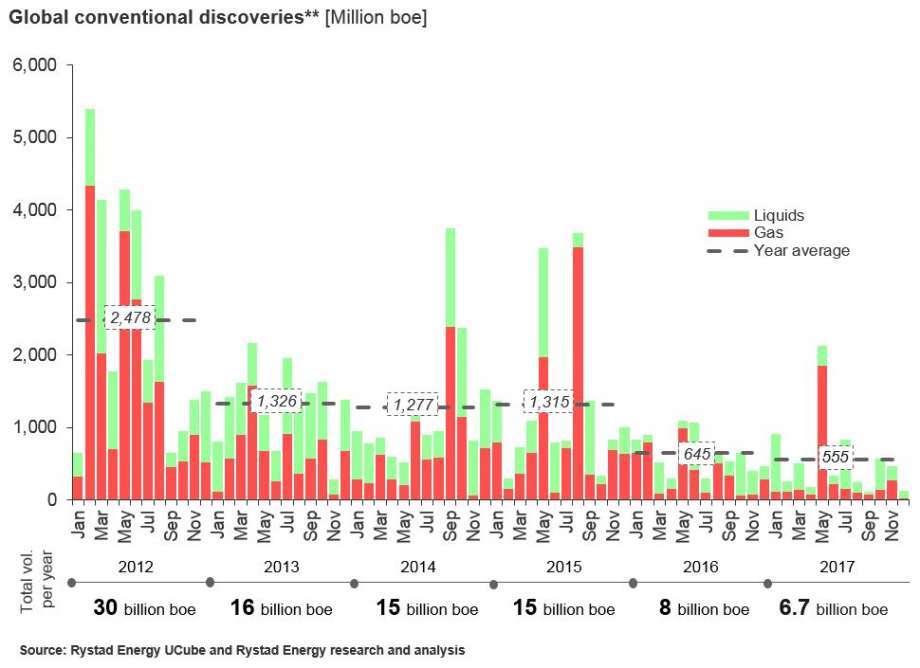 Oil companies discovered less oil and gas this year — 7 billion barrels — than any year on record, the Norwegian research firm Rystad Energy reported on Thursday.
"We haven't seen anything like this since the 1940s," says Sonia Mladá Passos, a senior analyst at Rystad. "We have to face the fact that the low discovered volumes on a global level represent a serious threat to the supply levels some 10 years down the road."
In 2012, companies discovered four times that — more than 30 billion barrels.
Most worrisome, Passos said: the year's finds would replace just 11 percent of the world's production this year. The last year the reserve replacement ratio hit 100 percent was 2006; by 2012, it had dropped to 50 percent.
Average monthly volumes dropped to 550 million barrels of oil, gas and liquids. An average offshore discovery held 100 million barrels this year, compared to 150 million in 2012. And since smaller fields are less likely to be developed, Rystad estimated that over 1 billion barrels discovered this year won't be developed.
Passos in part blamed exploration budgets, which she said have decreased for three consecutive years, falling by more 60 percent in total.
"We need to see a turnaround in this trend," Passos said in the report, "if a significant supply deficit is to be avoided in the future."
This first appeared on the Houston Chronicle – an Energy Voice content partner. For more click here. 
Recommended for you

India's ONGC Videsh, Indian Oil weigh stake in Tullow's $3bn Kenya project