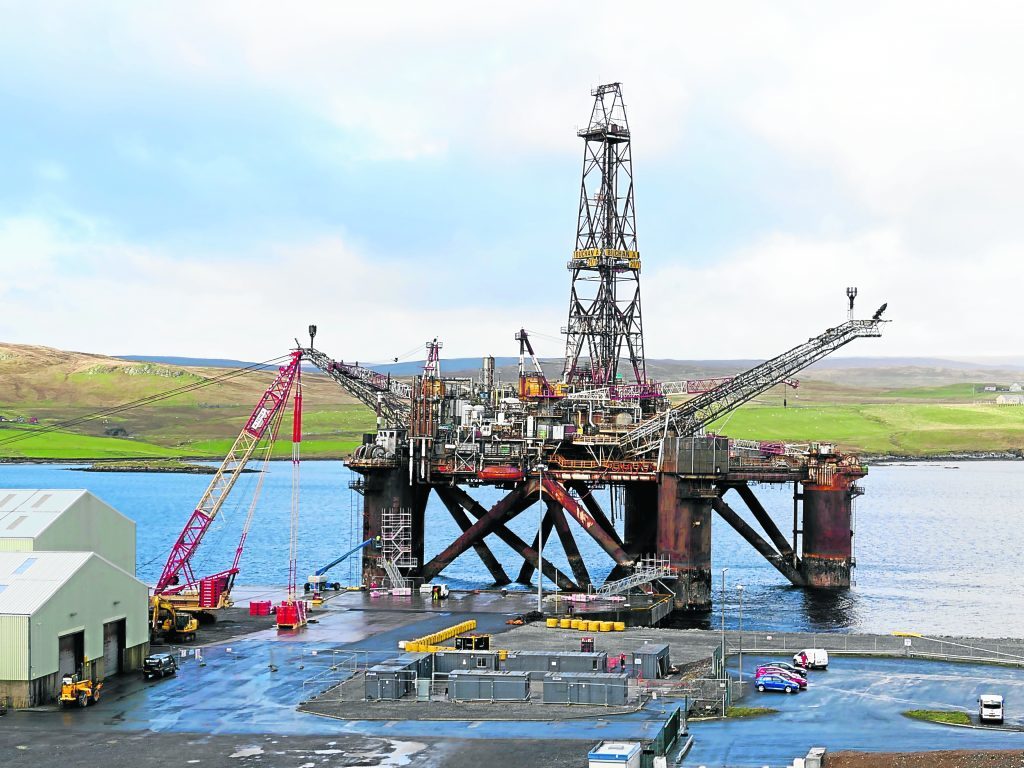 Lerwick Harbour's impressive track record in supporting projects west as well as east of Shetland means the deep-water port is primed and prepared to service further developments in the Atlantic.
The latest expansion of the harbour's infrastructure has provided more quays, unique heavy-lift capacity and greatly increased laydown.
The capabilities are demonstrated by Dana's recently-on-stream Western Isles development in the North Sea, with the large subsea installation project utilising Lerwick's strengthened quay and quayside laydown over two summers.
The ability to accommodate multiple heavy-lift transport vessels at quayside facilitated delivery this year of modules from Korea for transhipment to Statoil's Mariner Field, with Lerwick also the closest port to the North Sea location.
The scale and scope of resources are also highlighted by ongoing decommissioning of the former Buchan Field floating production unit (FPU) – the largest such task yet undertaken at the port. Initial work was carried out on the 15,000-tonne FPU moored in deep-water Dales Voe, before it berthed alongside the extended base there.
Captain Calum Grains, Lerwick Port Authority's deputy chief executive and harbourmaster, said: "The Western Isles, Mariner and Buchan projects are excellent examples of contractors making full use of Lerwick's natural advantages – deep-water and geographic location – and the extensive, modern infrastructure.
"Along with recent and ongoing involvement west of Shetland, they are topical reminders of the contribution the port, as a leading hub, can make to the development of the North Sea and Atlantic."
West of Shetland has added to the port's reputation as a premier decommissioning centre, having supported removal of the Scheihallion FPSO mooring system, coinciding with servicing installation of the new mooring system and subsea infrastructure for the replacement Glen Lyon FPSO.
Significant involvement in the Laggan-Tormore development, included trans-shipping rock for pipeline cover; subsea equipment; berthing accommodation vessels for construction workers at the Shetland gas plant and handling the modules and construction materials for the plant.
The port simultaneously handled two giant vessels transferring the Solan storage tank, en route to the field, with supply chain involvement in preparations. Installation of subsea infrastructure and oil offtake system were also handled.
The Clair Ridge and Edradour/Glenlivet projects are utilising Lerwick for marine support and storage of large-scale equipment for transfer offshore.
Future west-side developments, including Hurricane's Lancaster and Chevron's delayed Rosebank, would be able to take advantage of expanded facilities – the £11.95 quay extension to 127 metres at Dales Voe, the strongest in the UK, with 60 tonnes per square metre capability alongside 12.5 metres water depth, and the £16.5million, 800-metre-plus Mair's Pier, both completed in 2016, as well as the long-established Greenhead Base.
Lerwick now provides:
• Quays totalling 4,574 metres.
• Including 2,584 metres of deep-water quays.
• Laydown extending to 120,000 square metres.
Recommended for you

Fred. Olsen 1848 unit launched to commercialise renewable technologies