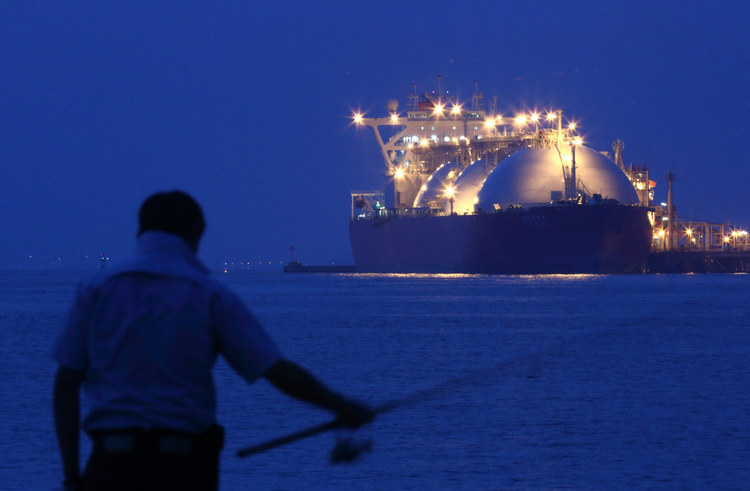 Three weeks after picking up a controversial cargo in the U.K., a liquefied natural gas tanker made a U-turn one day before it was due to deliver it in Boston.
The Gaselys vessel that was set to arrive on the U.S. East Coast on Saturday is now heading back toward Spain's port of Algeciras near Gibraltar, and should get there next week, according to ship-tracking data compiled by Bloomberg. The vessel is carrying a cargo from storage tanks at a terminal near London, which earlier received the first fuel from the $27 billion Yamal LNG plant in Russia's icy north.
The cargo was sent to Boston after the polar chill that gripped the U.S. northeast earlier this month, sending prices to records. The shipment drew the attention because some of its gas is from the project that's been under financial sanctions imposed by the U.S. in 2014 after President Vladimir Putin invaded Ukraine's Crimea. The fact that it didn't sail directly to Boston from London also raised questions about its destination.
While unusual, it's not unheard of for LNG cargoes that aren't tied into a contract with fixed destination to change course en route as cargo owners seek the highest price and the best market. Companies with access to wide global supplies can also swap shipments between regions. What's more, the tanker may still make it to Boston with a delay, as was the case with deliveries earlier this month, according to Kpler SAS, a cargo-tracking company.
"We have still not canceled the Everett port call for Gaselys," Madeleine Overgaard, an LNG market analyst at Kpler, said by email. "Her course is currently not very different from the average delivery at Everett in 2017, she is probably just diverting to delay arrival."
Recommended for you

Asia snaps up American shale gas to keep boilers, furnaces lit