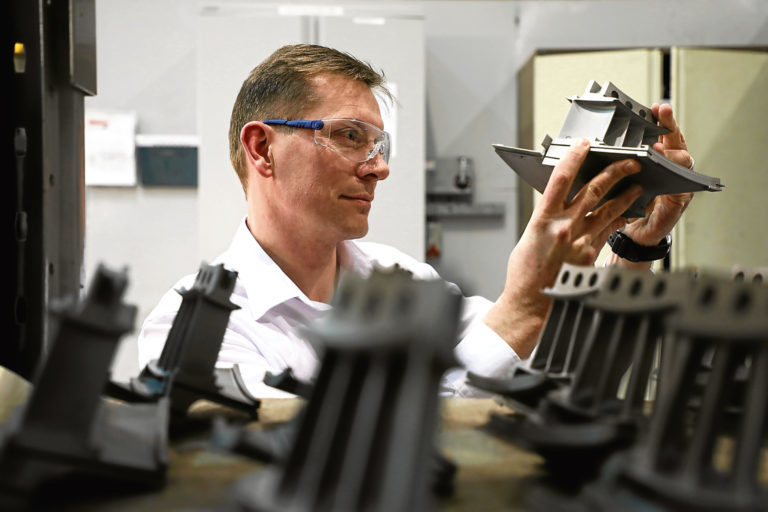 A Dundee turbine components firm has unveiled plans to quadruple its turnover and take on almost 100 additional staff over the next five years.
ATL Turbine Services, based at Baldovie Industrial Estate, faced huge difficulties when a long-term order to supply parts for the Tornado aircraft stopped in 2015.
It led to around 20 jobs being lost at the Dundee site and a four day working week being implemented.
However, under the watch of engineering industry veteran Kerr Picken who joined as CEO in February 2016, the company has undergone a successful turnaround.
The firm focuses on inspecting and repairing turbine parts, which involves a variety of highly skilled and specialist processes.
Operations director Dale Harris, who joined last year, said: "There's no doubt the business went through a difficult time a couple of years ago.
"Since then Kerr came in and has done an excellent job at building up the business again.
"We've now got a much greater diversity of clients now – probably about 50:50 between industrial and aero and the company is growing again."
The firm's latest accounts for the year ending June 30 2017 shows a £146,511 profit on £5 million sales.
Exports are an increasingly important part of sales – rising up from £227,000 in 2015, to £297,000 in 2016 to £1.25m last year.
"In the past year we've gone from 58 people to 70 and most of that additional growth has come in the last six months. We now have a good, stable, repeatable business," Dale added.
"We are getting the message out that we can offer a responsive, fast turnaround, high quality service but we are quite targeted about the clients we go for."
ATL has plans for this to grow its turnover to £20m by the year 2022, which would mean the workforce growing from 70 to around 160.
It can take the firm up to six months to train staff for some of its specialist jobs.
The firm has joined the Government-backed Sharing in Growth programme with the aim of increasingly productivity.
"We joined Sharing in Growth to help make efficiency gains," Dale said.
"We are constrained by the footprint we've got so we hope that Sharing in Growth will help us make efficiency gains.
"By taking out as much waste as we can from the processes we will create the capacity to take on more jobs and staff.
"Ultimately what we aim to do is move back to three shift system again, a 24 hour operation, to maximise our assets.
"We're at 70 people at the moment, but to get up to the £20m mark we'll probably need to grow to about 160 staff."