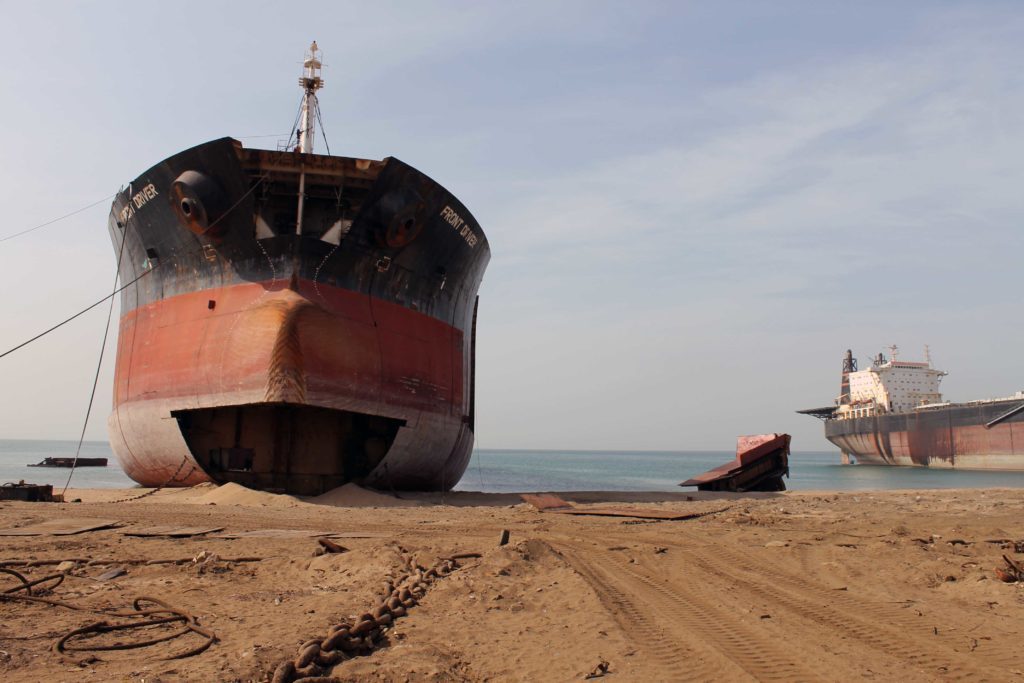 New data shows 835 large ocean-going commercial vessels were sold to scrap yards in 2017, with over 500 broken down by hand on tidal beaches in Bangladesh, India and Pakistan.
NGO Shipbreaking Platform says this amounts to over 80% of all tonnage globally being taken apart in treacherous or illegal conditions.
The organisation aims to end unsafe working conditions caused when end-of-life ships containing toxic materials are freely traded in the global marketplace.
Last year, at least 10 workers died in the shipbreaking yards of Gadani in Pakistan, meanwhile Platform documented 15 deaths in Bangladeshi yards where at least 22 other workers were seriously injured.
Platform has compiled a list of all ships traded and scrapped in 2017.
Germany and Greece have been named as the worst dumpers, with 50 German-owned vessels being beached and 53 sold for demolition.
Greece was responsible for the highest number of ships sold to South Asian shipbreaking yards – 51 in total.
UK-based Zodiac group was among the worst corporate dumpers with 5 vessels sold to South Asian yards.
Meanwhile, despite increased pressure for clean ship recycling from Norwegian authorities, 18 Norway-owned vessels ended up in Alang, Gadani and Chittagong.
Ingvild Jenssen, founder of the group, said: "The figures of 2017 are a sad testimony of the shipping industry's unwillingness to act responsibly. The reality is that yards with infrastructure fit for the heavy and hazardous industry that ship recycling is, and that can ensure safe working conditions and containment of pollutants, are not being used by ship owners.
"It is particularly shameful that so many European shipping companies scrap their vessels on beaches.
"Their obvious lack of interest to ensure that shipbreaking workers around the world enjoy best available technologies, and that the environment is equally protected everywhere, clearly calls for additional pressure from authorities, shipping clients and financers."
The number of offshore platforms going to scrap in the last three years has increased, with 41 of the 91 units in that time going to South Asia beaches.
It's after three floating platforms owned by Diamond Offshore were blocked from leaving the Cromarty Firth over fears they were to be sent to breaking yards.
Francesca Carlsson, policy officer for the NGO Shipbreaking Platform, sais: "Fixed platforms cannot easily escape decommissioning rules, whereas we have seen that nearly half of all floating units slip under the radar and end up on beaches – this double standard has to stop."
Recommended for you

Spotted? Workers catch glimpse of North Sea rig being broken up in Turkey