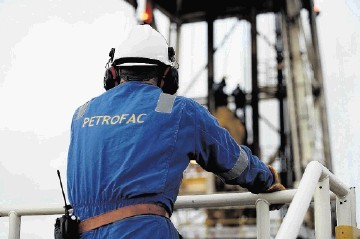 Petrofac's board said today that chief executive Ayman Asfari would resume "full executive duties" at the UK energy service giant.
The London-headquartered firm also confirmed plans to exit the deep-water market and said a "re-assessment of production profiles" at the Greater Stella Area (GSA) had led to it booking a hefty impairment.
Petrofac said the restrictions imposed on Mr Asfari in May were no longer appropriate.
Petrofac said Mr Asfari would continue to fully support the investigation by the Serious Fraud Office (SFO) into allegations of "bribery, corruption and money laundering" at the firm.
Mr Asfari and chief operating officer Marwan Chedid were questioned under caution before being released without charge.
Petrofac said earlier this month that the probe would continue to involve "the interview of directors of the company".
Today, the business said Mr Chedid would leave to "pursue other interests".
Mr Chedid "will remain ring-fenced from the SFO investigation in his temporary advisory role", a Petrofac spokesman said.
The company made the announcement in its full-year 2017 results, which showed a 55% drop in pre-tax profits to £33million.
Revenues were down 19% year-on-year at £4.6billion.
The company said its exit from the deep-water market would trigger an impairment charge of £128million in relation to the JSD6000 installation vessel, which has been reclassified as an asset held for sale.
The £130million impairment in its integrated energy services unit was mostly due to production from the Ithaca-Energy-operated GSA in the central North Sea.
Production from the Stella field started in February 2017. It has a lower oil to gas ratio than initially expected.
Petrofac has a 20% working interest in the project.
Mr Asfari said he was confident Petrofac was "well positioned for 2018".
He said tendering activity remains high and that Petrofac was "well positioned on several bids".
"We have delivered solid full year results, good operational performance and strong financial discipline, while maintaining our focus on best-in-class and safe project execution for our clients.
"We are also delivering our clear, focused strategy. The group has secured awards in a broad range of markets during the year. Operational excellence is maintaining our strong competitive position and protecting our differentiated margins.
"Furthermore, we are continuing to reduce capital intensity and enhance returns, evidenced by the disposal of non-core assets and our decision to exit the deep-water market."
Chairman Rijnhard van Tets said: "The board continues to have full confidence in Ayman, in Petrofac's people, its processes and its long-term prospects, and looks forward to continued good progress in 2018."
Recommended for you

Wind services firm set up by ex-Petrofac CEO acquires two new companies