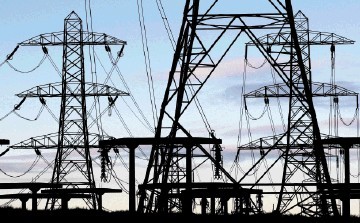 The natural gas crisis eased in the U.K. as the nation's pipeline manager said more supplies were flowing after a blast of Arctic air lifted demand for heating and electricity.
National Grid Plc lifted its warning about deficits in the system on Friday morning, and the government moved to reassure consumers that the system had ample capacity to meet household needs. Gas prices for prompt delivery plunged, although they remained almost double the cost of delivering the fuel a month in the future.
The cost of supplies surged to the highest ever on Thursday as heavy snow blanketed the U.K. and forecasters said the cold snap would extend into the weekend.
"The market has continued to respond over the last 24 hours and we have seen an increase of supplies into the network," National Grid said in a statement, adding that it didn't expect to issue another deficit warning.
Pinched supplies on Thursday prompted the chemical maker Ineos Group Ltd. to reduce its consumption by 20 percent at its Runcorn plant in the U.K. Russia's state-controlled gas supplier Gazprom PJSC said it made record deliveries into its key markets last month, including the European Union.
Gas prices rose across Europe as the chill descended from Italy to Scandinavia. For Britain, the incident highlighted the nation's vulnerability to shortages since it lost the use of a giant gas field for storage purposes. Dutch contracts jumped to their most expensive level since at least 2011, according to broker and exchange data.
At the moment when the U.K. most needed a supply cushion to smooth out demand for gas, Centrica Plc announced an outage at its Rough gas storage facility under the North Sea. That outage ended last night, easing the crunch.
Britain is Europe's biggest gas consumer after Germany. Once a major gas producer, the U.K. increasingly relies on imports during winter months as output from the North Sea falls. It's a risky dependency when it's cold across Europe, like this week when a mass of Siberian air pushed in.
"It certainly shows the vulnerability of extreme events," Nick Campbell, energy risk manager at Inspired Energy Plc, said by email. "Our only other form, LNG, is not flexible in the short term. It takes time to arrive from its destination, therefore the one thing you can guarantee is volatility."
Previously, Rough would have provided a buffer for supply shocks. The aging gas facility is due to close in the coming years and is increasingly less available. Without Rough, the U.K. is more reliant on liquefied natural gas — or supplies from continental Europe where the government is renegotiating its trade links.
U.K. Energy Minister Claire Perry said domestic gas supplies won't be affected.
"I have spoken to National Grid this morning, and we are in constant contact to monitor the gas supply throughout this extreme weather," Perry said in a statement on Thursday. "So do carrying on using your gas heating and cooking meals as normal."
Recommended for you

Centrica chief trying to get the UK to speed up carbon capture