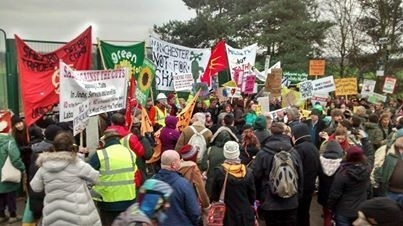 The Government has been accused of trying to "skew" planning policy in favour of fracking, after proposed changes to the system were unveiled.
Proposed amendments to planning rules say authorities should recognise the benefits of onshore oil and gas for securing energy supplies and "supporting the transition to a low-carbon economy".
A new draft of the national planning policy framework says mineral planning authorities should put in place policies to facilitate the exploration and extraction of onshore oil and gas, which would include fracking for shale.
The proposed amendments also say a wind energy development of one or more turbines should not be considered acceptable unless it has the backing of the local community.
Environmental campaigners said the changes, which have been put out for consultation, were trying to skew planning policy to favour fracking, even though it had little public support compared with onshore wind.
The most recent surveying by the Government reveals just 16% of people support fracking for shale gas, while nearly three-quarters (74%) of people are in favour of onshore wind.
Greenpeace UK head of energy Hannah Martin said: "This is a blatant attempt by the Government to skew planning policy in favour of fracking.
"Why should popular wind farms require local support to go ahead and not controversial fracking?
"These glaring double standards are unfair and unjustifiable."
She added: "Ministers were recently forced to admit they have no idea how many fracking wells Britain is going to have in the near future, yet they keep telling everyone that fracking will boost our energy security.
"Instead of staking our energy future on a pie-in-the-sky industry, the Government should back the clean technologies like offshore and onshore wind already delivering jobs, investment and clean energy to Britain."
Recommended for you

Video: Aberdonians voice opinions on future of oil and gas