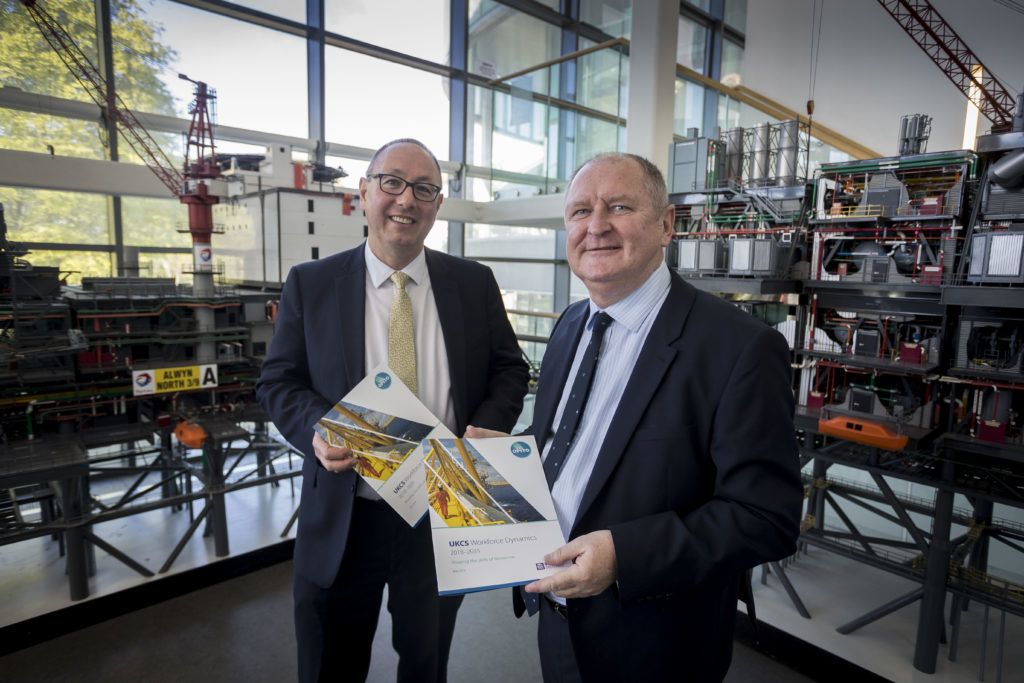 The North Sea workforce will require 10,000 new roles in emerging areas such as robotics and data management by 2035, according to a new report.
Skills body Opito, along with the Robert Gordon University, has produced a "crucial" review of the skills requirements for the UK oil and gas sector.
It outlines three scenarios, with the best case indicating 130,000 jobs will be supported in 2035, if industry goals are achieved.
That's down from 170,000 at present.
However, the workforce could be as small as 65,000 if the industry fails to take action.
It states that 10,000 new roles need to be created in emerging areas, among 40,000 workers to be recruited overall for the sector.
Professor Paul de Leeuw, director of the Oil and Gas Institute at RGU, presented the findings, predicting that 80,000 people will retire or leave the sector in the lead up to 2035.
The research will help inform a new skills strategy, led by Opito, to train the workforce for diversifying into new areas such as renewables, as well as using new technology.
The Oil and Gas Authority is aiming to improve North Sea oil recovery by three billion barrels by 2035.
That, coupled with improved exports, would support the best case scenario according to the research.
In order to achieve that, Professor de Leeuw argued it is "critical" that a roadmap to Vision 2035, currently being developed by Oil and Gas UK, is backed by industry and government.
He said: "We certainly see that we will be recruiting. We see 40,000 new roles coming in, which I think is a really powerful story.
"The upskilling of the workforce is going to be key, particularly as new technology and innovations come in.
"We're going to need a far more flexible workforce. You can't just say you're competent to work in oil and gas but you're not competent to work in renewables.
"We need to have standards and approaches that allow people to mix and match.
"We see a world in 2035 where this basin, after 70 years of production, can still be somewhere around 700,000 barrels a day or a million barrels per day.
"In 2035, we will have recovered somewhere around 52-53billion barrels, so around eight or nine billion will be recovered between now and 2035. So a huge amount of the remaining prize of 20billion, only half of that will be recovered by around that period of time."
Improvements in technology will affect "every job" according to Professor de Leeuw, however some areas such as IT and drilling will be more heavily impacted than engineering or business development.
However, Opito chief executive John Macdonald said strides in innovation should not be a cause for concern.
He said: "For us, I think this helps to attract the new generation. It's something new and exciting and gives a modern, vivid edge to our industry and I'm looking forward to working with industry and other partners to develop the requirements set out in those roles.
"I think that automation is affecting every part of our industry across the UK and internationally and I think the positive aspect to automation is that it can allow people to carry out higher-value jobs.
"We're just saying that some people in those job families might be affected, but the piece of work that we're doing is to look at how can we upskill those people to take advantage of the opportunities being made available by the changes coming in.
Nexen UK managing director Ray Riddoch, who was speaking at the launch event, said:  "I'm an optimist by nature, I think we will deliver 2035, maybe even a little bit more. If we deliver 2035 that's plus three billion more barrels. Of equal, if not more importance, doubling the supply chain's share of the global export market and we need the supply chain to be with us.
"We really do need to start thinking about how we're going to do it. As an industry Oil and Gas UK are working on the roadmap to 2035, and the sector deal is hugely important going forward.
"We have to plan for that future, we have to use the sector deal, we have to get the road map in place. Undoubtedly to my mind, there will be a change in landscape.
"The worst thing we could do as an industry is accept this excellent piece of work, and put it on a shelf. We have to use the insights provided to us, to plan for the future.
"I feel this is a cornerstone to the roadmap to 2035."
Recommended for you

Licence to Drill: North Sea riggers take on James Bond TV show