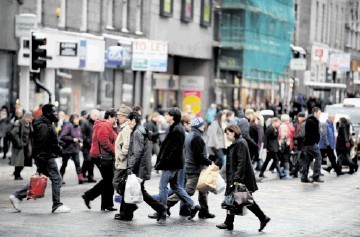 ABERDONIANS have more money in their pockets than the residents of any other Scottish city, according to research published today.
People in London have more cash to spare than those in all other UK cities – but Aberdeen is catching up fast and has enjoyed the fastest rise in disposable income in recent years, boosted by the oil industry.
The increases in Glasgow, Dundee and Edinburgh were the fourth, fifth and 18th biggest in the UK, but Inverness did not feature in the top 50, the study shows.
North East Labour MSP Lewis Macdonald called the statistics "reason to celebrate" and Aberdeen Donside SNP MSP Brian Adam said it was "good news" that the area continued to prosper.
A spokeswoman for Aberdeen City and Shire Economic Future said the figures underlined the "economic strength of the region" and its ability to "help drive the country out of the recession".
She added: "While we have not been unscathed by the downturn, our economy continues to perform well and we punch well above our weight.
"We are focused on achieving long-term, sustainable economic growth by delivering projects and initiatives that create the right conditions for business to remain here and flourish."
The average disposable household income – after outgoings such as tax, mortgage payments and pension contributions – rose by nearly 25% in Aberdeen between 2004 and the end of 2009, the last year for which figures could be obtained.
In 2004, people living in the Aberdeen area had £13,669 left over after paying their bills and this figure has jumped by 24.65% over five years to £17,039.
London saw a 22.13% jump over the same period, with households pocketing £19,658 in 2009 compared with £16,096 five years earlier.
Accounting group UHY Hacker Young, which carried out the research, said Aberdeen's success had been buoyed by a "booming oil industry".
Partner Marc Waterman said: "London has been seen as streets ahead of all the other UK towns and cities for growth in disposable household income, but these figures show that the gap is closing.
"Despite the recent North Sea tax increases, there has been continued investment in North Sea oil and gas production."
However, not everyone in the city has benefited from the so-called cash boom and Mr Waterman said he expected to see a drop in disposable income in areas heavily dependent on public-sector employment as budget cuts started to bite.
Mr Macdonald said: "It's tougher to be poor in a prosperous city than in a place where other people are struggling too.
"We should celebrate the success of the private sector and do our best to continue the prosperity of Aberdeen, but while we do we also need to recognise that for some people, such as the vulnerable and those who are not able to work, it's really tough.
"There are also problems with affordable housing. For folk trying to buy their first house, it's particularly hard compared to other cities."
Mr Adam added: "The prosperity is certainly not across the board, although there's no doubt Aberdeen has been cushioned to some extent from the recession.
"People in the public sector have not enjoyed the same kind of increase in the standard of living that some of their neighbours have.
"And folk who have lost their jobs – they have not had that kind of benefit. We do have a situation of prosperity, but there are pockets of deprivation and we have not been able to protect those."
Liberal Democrat city councillor Kate Dean, who chairs the enterprise, planning and infrastructure committee, said: "We have all been conscious we have not been as hard hit in Aberdeen as in some places.
"But that's no consolation for those who are still looking for work and are still struggling. It's important we do keep the city as vibrant as possible to ensure it does survive the recession."
The study was based on data obtained from the Office for National Statistics.
Recommended for you

Aberdeen Gallery given special training after oil protestor art attacks